Due to incessant heavy rain, many low-lying areas of the city of Chennai were inundated on the late night of 1st December. Water from the overflowing Adyar River submerged houses lying within a kilometer either side of the river, and floodwaters reached many other areas as well. Hundreds of thousands of  people have been affected.
In many houses near the river, even the first floor was submerged, forcing people to take shelter on open terraces where they were exposed to rain and cold wind. They were stranded there as the water level on the streets in some areas was approximately 40 feet deep.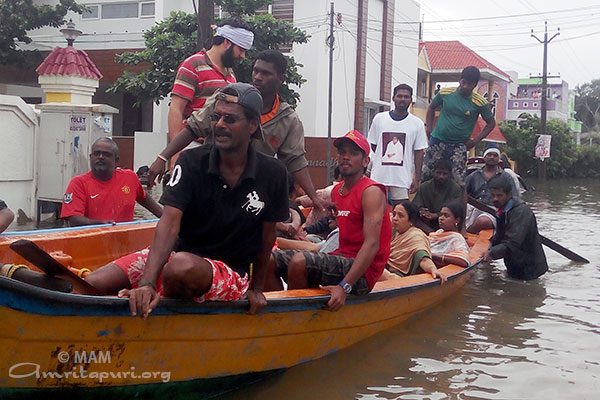 Amma sent volunteers to begin rescue operations in motor boats on December 2nd. Ashram residents and devotees courageously risked their own lives to rescue people who had been trapped by the rising floodwaters, using ropes to safeguard themselves from being carried away by powerful currents. Food, drinking water and new sets of clothing was provided for evacuees.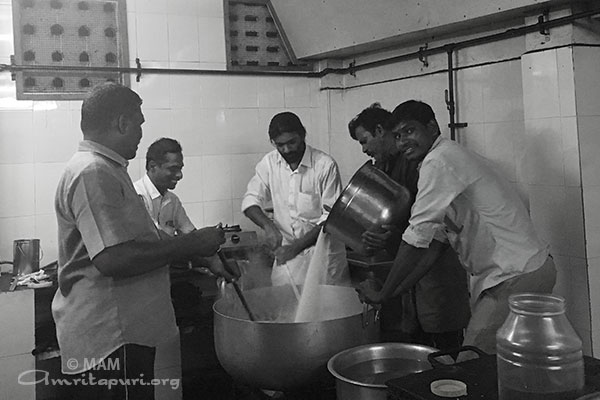 Packaged drinking water and food were supplied to those who preferred to stay in their homes. Even now, after the water has receded, our volunteers are continuing to provide meals for thousands of affected people each day.
Hundreds of thousands of sets of clothing were also distributed to the flood affected people of Chennai.