8 Dec 2015, Chennai
In the wake of the colossal loss and damages due to the unprecedented rains in Chennai and parts of Tamil Nadu, MAM donated Rs.5 Crores towards the Chief Minister's Relief Fund for relief and rehabilitation  activities. On behalf of MAM, Swami Ramakrishnananda Puri met Dr J.Jayalalitha, Chief Minister of Tamil Nadu in Chennai and handed over the amount.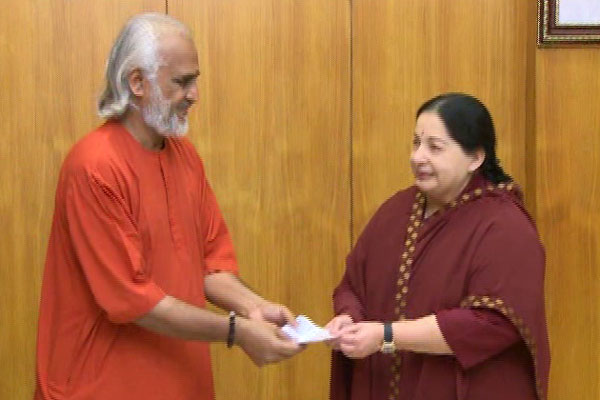 As directed by Amma, MAM volunteers have been actively participating in the relief work from the last week of November. From December 1st  around 500 volunteers comprising of students & faculties from the Amrita Vishwa Vidyapeetham campuses in Bangalore and Coimbatore along with devotees have been involved in relief activities including rescuing the stranded to safer places, distribution of food, medicines, essential provisions, utensils, stove, clothes, blankets, toiletries and other essentials in badly affected areas like MGR Nagar, Choolaipallam, Dr. Kaanunagar, Saidapet, Jafferkhanpet, Samiarmadom, Nallankuppam in Ashok Nagar, Tarapakkam and Sadanandapuram.
A Telemedicine van, two fully equipped ambulances which includes a cardiac unit, an emergency unit, a testing unit to detect epidemic diseases in two minutes, colour ultra sonography, X-ray radiography, mini operation theater, small delivery room, electro-cardiography and light microscopy  along with a 25-member team of doctors and paramedics from Amrita Institute of Medical Sciences reached Chennai today and plunged into service of providing medical help. These teams will be fully equipped to handle any outbreak of epidemics and will also be providing preventive measures.
Over the years, the Mata Amritanandamayi Math (MAM) has been effectively helping in post-disaster situations. Starting from the earthquake in Lattur Maharashtra, the MAM was one of the biggest agencies post-tsunami to render immediate aid in the form of temporary shelters, food, clothing, etc. to long-term solutions like housing, vocational training etc. After the natural calamity in Uttarakhand, MAM is still active there helping rebuild houses, schools, colleges and providing vocational training, empowering women and tablet-aided learning for children.