30- 31st October, Finland – Europe Yatra 2015
After three days of programs in Holland, Amma next travelled to Helsinki, Finland as part of her 2015 European tour. On the first evening of Amma's program in the Vantaa Energia Areena, the occasion was honored by Ambassador of India to Finland and a renowned Finnish TV personality and wellness coach Kirsi Salo.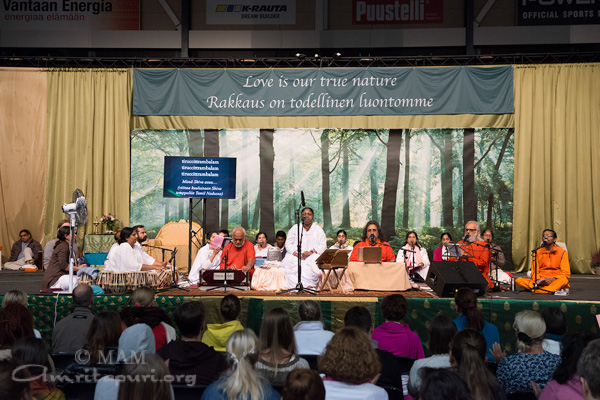 They both addressed the gathering briefly. Ambassador Sharma mentioned: "Amma, it means Mother. Mother is the most precious gift for every human being. We must learn from Amma, how to give. And we will get only when we learn how to give. We should shower love on others and affection on others. And whatever material gains we get, we should share with others. This is the message of Amma."
Kirsi Salo also spoke during the occasion: "Amma opens our hearts, and wherever she goes, peace, harmony, acceptance and love arises and I want to thank her for that. I'm sure that this state of peace and harmony can continue in all places, regardless the environment. We can walk out in the world and feel that we all have one little Amma inside our hearts and we can see all the people through those eyes of love. The natural state of human beings and the universe is love and every one of us can bring it out to the world. Thank you Amma."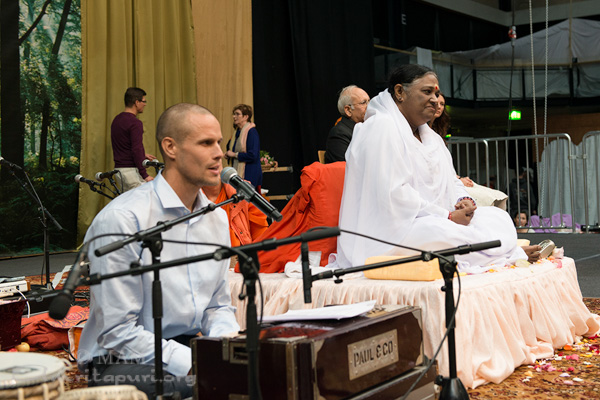 After that former Olympic Swimmer Matti Rajakylä gave a talk of his experience with Amma and how Amma has inspired his life: "It was six years ago after my first darshan I sat on this same stage next to Amma, and realised one thing: "Everything I tried to look for in life, achieved or was trying to achieve in my career or outside of my career is only based on one basic need: LOVE. Love in it's purest form. Love that brings fulfilment. Love that brings contentment and perfect peace. Love that doesn't ask for anything. Now I'm sitting next to a person, who is embodying that Love."
People from all over northern Europe (Amma's satsang was displayed in Polish, Russian, Danish and Finnish) braved the freezing temperatures outside to come meet Amma. Inside the hall there was nothing but warmth as everyone happily left after receiving Amma's embrace.
Amma next travels on to the south of France for the next stop on the tour in Toulon, France.
-Kannadi