12 February 2003, Bangalore

At 8:30 this morning Amma performed the Kalasha Sthapana for Her newest Brahmasthanam Temple, installing the stupika at the apex of the temple's roof.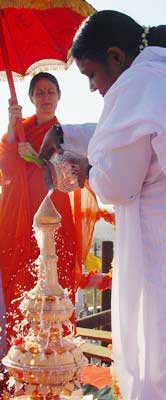 Gongs, bells, traditional panchavadyam drums and horns accompanied the continuous chanting of the mantra "Om Sivasaktyaikya Rupinyai Namah" (Salutations to the One who is the union of Shiva and Shakti) as Amma performed the ceremony. Throngs of devotees spilled out from the temple on all sides, palms joined and eyes upturned. Amma frequently looked to them as well, turning to all four sides with each piece of the stupika held high before installing it, and also to shower flowers and consecrated water at intervals.
The stupika consists of three brass bowls set vertically on a central spike, each smaller than the one below it. Amma filled each bowl with navdhanya (nine types of food grains) before placing the next one, and atop the third and smallest She placed a sculpted point.
Watching the proceedings, one was touched with a profound sense of the sanctity of this morning's ceremony. What an infinitely rare and precious gift to witness a Divine Incarnation consecrating a new temple. Thousands of years ago, Lord Rama consecrated the Siva temple at Rameswaram. What was it like to be there? It was like this.
When She was finished, the stupika shined brilliantly in the sun, imbued with Amma's shakti and sankalpa (divine resolve), a sparkling gem in the sky that will shine through the ages, pointing to Amma's message of Unity in diversity, of Oneness inherent in the apparent duality of the world.