9 February 2003, Mananthavady
Amma calls it Anandavady, the Blissful Garden. Not without reason. Mananthavady is a town among the hills of the southern tip of the Western Ghats. The ghats are known for their precious forests and beauty. Amma's Brahmasthanam Temple, built atop one of the hills, is visible from a distance in all directions. The annual three-day program attracts huge crowds from nearby towns and villages. Here, Amma's children are mainly economically disadvantaged but exceptionally rich at heart. Most of them are workers on tea- and coffee plantations, some of them have small holdings themselves. Living in proximity to nature probably has made them sweetly receptive to spiritual satsangs. I say this because though they are not exposed to spiritual disciplines like the urban people, the people of Mananthavady are exceptionally receptive to Amma's satsangs.

In Her Anandavady, Amma, the Mother of Bliss, becomes the Mother of the Woods, Vanadevi as well. She is received with fanfare consisting of traditional as well as popular local festivity. In Her Anandavady Amma, as usual, never tires of receiving garlands as offerings of love. In addition to the garlands made of flowers commonly used all over the land—such as rose, jasmine, marigolds, hibiscus, basil leaves—Amma is offered garlands made of any flower that blooms on the slopes or in the valleys, flowers small and big, flowers of all possible shapes and hues and shades! In the jungle I would have passed by them, calling them flowers on the bushy fence. But people here are very artistic; they make colourful garlands out of scented leaves and wild flowers. Just as the bouquet made of different flowers is more beautiful than the one made of a single kind, these malas have a beauty of their own.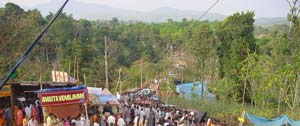 Worshippers of Devi offer malas made of fifty-four or one hundred and eight lemons. It is not unfamiliar to Amma's children to see Her accepting such a mala just as She does a flower garland, unmindful of its weight. Here in Mananthavady, the farmers are fond of making malas out of their agricultural produce: malas of cardamom, of cloves, pepper, coffee seeds. Oh, I wouldn't have been surprised to see malas of bananas, jackfruits or coconuts!
The silent valleys around here are a home for perennial ponds where white, pink and blue lotuses bloom. They make their way to adorn Amma's peetham. The thin pure air on which, after sunset, settles fog, fills with the song of bulbuls and other singing birds sitting on treetops. So much of Nature and Her bounty around
Amma make Her verily the fairy—nay,the Devi of the woods. After the three-day festival, Amma and Her train of buses glided down the slopes into the bamboo groves in the plateau. In Her eight-week North Indian Tour, Amma will be covering all the major natural zones of the vast country.