27 Sep 2015, Amritapuri – Amritavarsham, Amma's 62nd Birthday celebrations
Early this morning the stage was filled with traditional Kerala dancers in full regalia as well as ladies dressed up in the traditional costumes from all 29 states of India to welcome Amma. The loud, Panchari Melam, traditional music of Kerala created festive mood and a celebration in the hearts of everyone.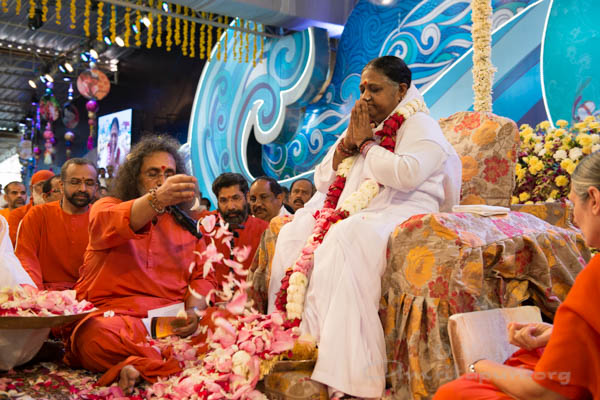 Upon Amma's arrival on the stage, Swami Amritaswarupananda performed the Pada Puja while everyone chanted the Guru Gita. He then garlanded Amma with a beautiful red, pink and white mala, and lead the archana on behalf of all the devotees. The hall was reverberating with the chanting of Aum Amriteswaryai Namah.
After the Pada Puja, Amma lead a prayer for peace and harmony; praying for the peace of the departed souls of those who lost their lives in the recent Haj stampede, and for everyone to open their hearts to the plight of the refugees who have fled their homelands due to war and crisis.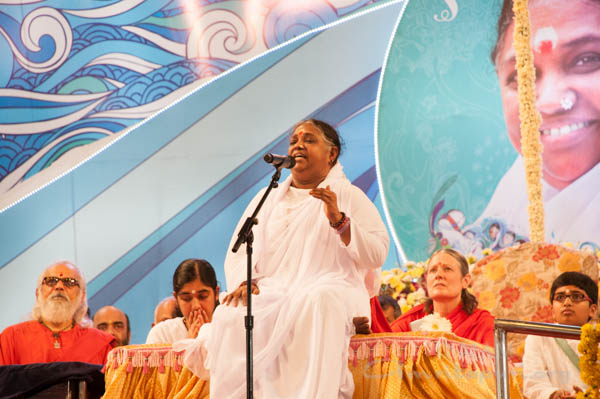 Amma then gave her birthday speech, saying that India was suffering from a split personality–success when it comes to technological advancement and failure in terms of poverty, illiteracy, health sanitation and crimes against women. However, she said the condition could be remedied if the nation overcame segregationist attitudes and worked in unity.
"A split personality is never a sign of sound health," Amma said. "If we want to see India become powerful and healthy again, we need to merge these two faces into one beautiful face."
"If we can bring our collective knowledge, compassion and talent together, it will not be so long before we see India rising and thriving with peace, harmony and prosperity," she said. "When this dream of India burns in us so strongly that not even a single Indian wants to sleep until it's realized, then it will become a reality."
"External success is impermanent. Along with external success, we need inner victory- victory over our mind and senses."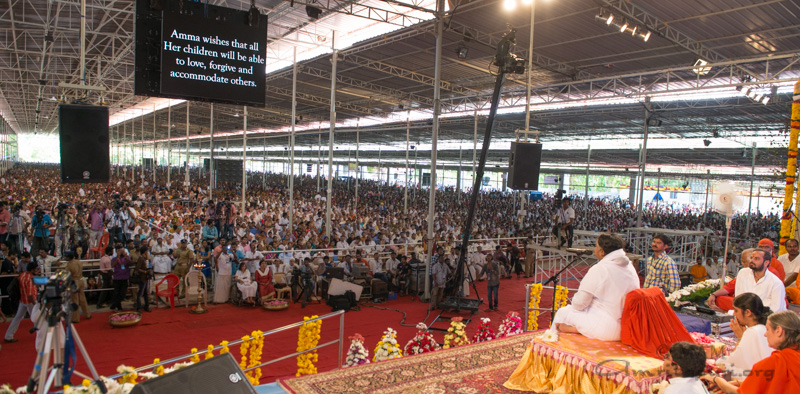 "It is said that 22,000 children are dying daily due to poverty. We hear about such deaths so regularly that our ears have become desensitized. We say, "So sad," but we forget it later. Just words of sympathy are not what is needed for the world. What we need are hands that are ready to serve selflessly."
Amma ended her talk by asking everyone to stand and chant Om Lokah Samastah Sukhino Bhavantu, once again praying for world peace.
With the help of several dignitaries on the dais, Amma then proceeded with the inauguration of numerous charitable initiatives for the poor in areas including healthcare and housing, as well as the provision of clothing, potable water and electricity.