President of India launches Amrita ISRO satellite network of village resource centers
6 July 2005, Ettimadai, Coimbatore.
In a packed colourful function attended by over 4000 people plus hundreds of people at 9 centers, the President of India, His Excellency, Bharat Ratna, Dr. APJ Abdul Kalam launched the Amrita ISRO (Indian Space Research Organization) joint initiative in 'Village Resource Centers' on 6 July, 2005 at the Ettimadai campus of Amrita Vishwa Vidyapeetham. Governor of Tamil Nadu, Shri Surjit Singh Barnala, Tamil Nadu Education Minister, Shri Shanmugham, Dr. G. Madhavan Nair, Chairman of ISRO, Brahmachari Abhayamrita Chaitanya, Chief Operating Officer of AMRITA Vishwa Vidyapeetham and Dr. P. Venkat Rangan, Vice Chancellor, Amrita University were also present on the dais. More than 25 CEOs and senior executives from leading IT and Financial Services Companies also attended the launch.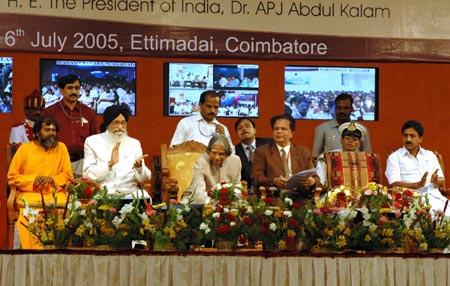 "Science needs direction from spirituality. While we accomplish immense growth in computer education and Internet experimentation, we should not forget the truth that that it is spirituality that teaches us how to use knowledge with discrimination", said Amma.
In his speech for students, Dr. Kalam said, "Amrita University has a major role to play in transforming our society into a knowledge society through it's unique value-added education system". He also added that he was happy that the Amrita ISRO VRC's had a mission of taking space technology and knowledge products from the University directly for communities at the grass root level like fisheries and agriculture. He also emphasized on the need to establish Village Panchayat Knowledge Centers to empower villagers. He also asked the students to repeat with him, learning gives creativity & creativity leads to thinking, thinking provides knowledge and knowledge makes you great.
Earlier, Vice Chancellor Dr. P. Venkat Rangan welcomed the gathering. Shri Barnala released the brochure of the new venture. Dr. Madhavan Nair gave a brief overview on the latest initiatives of ISRO. He also commended the support provided by Amrita in implanting tele-medicine and tele-education services across India. Incidentally, Amrita Institute of Medical Sciences hosts one of the largest tele-medicine networks in India connecting to over 36 remote rural hospitals as far flung as Leh-Ladakh. In two years it has already done over 800 tele consultations and 250 CME programmes seminars and conferences including a heart surgery and kidney conference.
Tele-education partners, Balu Doraiasamy, (Hewlett Packard), N. Lakshmi Narayanan (Cognizant), Sudev Muthyah (Microsoft) and Ranajoy Punja (CISCO) announced their support and participation in this Amrita ISRO rural development project. Likewise Tele-Medicine project partners Krishna Dhawan (Oracle) and Ketan Sampath (Intel); Tele-agriculture partner, Tele-fisheries partner Harishankar (IL & FS) announced their intent to participate. Shri K. Dinesh, Co-founder and Director –Infosys and MD of Ashraya Hasta announced support for the Disaster Management service of the VRC. 10 Amrita VRCs spread across 2 states were live and their interactions created quite a flutter. The Tele-education demo by Kozhikode Amrita Vidyalayam principal, Shobha Gopala Krishnan was superb.