The Ashram is bustling with activity as residents prepare for Amma's arrival.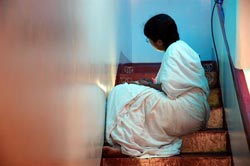 Ashram residents are busy cleaning and sprucing up the premises to welcome Amma back after Her two-month Japan-North America Tour.
Residents can be seen painting flower pots, changing curtains, and lovingly painting flowers on the steps the Amma climbs daily.
All the different sections such as the Cafe and Accommodation are busy preparing for the flood of devotees expected to pour into the ashram when Amma arrives.
You may recall how Amma was front-page news in the Washington Post. The Times of India noted that Amma made more headlines in the U.S. than the Indian Prime Minister when he visited the U.S.
Seeing how Amma wins everyone over, no matter where, no matter who, it cannot be denied that Love conquers all.