20 July, 2005, Washington DC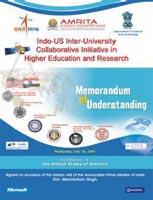 A memorandum of understanding (MoU) for Indo-US Inter-university Collaborative Initiative in Higher Education and Research was signed today during the visit of Prime Minister of India Dr. Manmohan Singh to Washington DC on July 20. In this land mark agreement six leading American universities, including the University of California campuses at Berkeley and San Diego, Carnegie Mellon University, Cornell University, Case Western Reserve University Cleveland, Ohio and State University of New York at Buffalo, which are ranked among the best universities of the world, will join with Indian institutions led by Amrita Vishwa Vidyapeetham, ISRO, and Department of Science and Technology to enhance science and engineering education in India over Edusat. Three of the leading technology companies in the world, Microsoft, Qualcomm, and Cadence, will be funding this Initiative.
University leaders, corporate executives, and the Secretary of Space, the Secretary of Science and Technology, and the Indian Ambassador to the U.S all gathered last wednesday in Washington D.C. for the signing of a three-year Memorandum of Understanding, immediately following which, they were warmly greeted by Prime Minister Manmohan Singh in Blair House, across from the White House.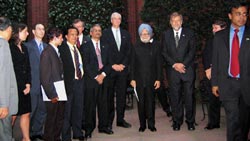 This MoU will bring the best of American university professors to Amrita. Amrita will deploy and manage its state-of-the-art e-Learning platform for delivery of interactive multimedia enriched lectures. The Professors from these Universities will take classes for a semester or two. These classes will be aired using ISRO's EDUSAT to over 250 professional colleges in India. The DST will design the curriculum and multimedia-rich course materials.
The American universities include University of California at San Diego, University of California at Berkeley, Carnegie-Mellon University at Pittsburgh, State University of New York at Buffalo, Case Western Reserve University at Ohio and Cornell University at Ithaca of New York. The American universities would also allow these professors to use their teaching and research material and related content, and for inclusion in the digital content library being created for future use by the students. The various disciplines of collaboration include Computer Science & Engineering, Information Technology, Electronics & Communication, Manufacturing, Biotechnology and Bioinformatics, Nanotechnology, Healthcare and others.
Three U.S. research centers are partners to the agreement: UC's Center for Information Technology Research in the Interest of Society (CITRIS); the California Institute for Telecommunications and Information Technology (Calit2); and Carnegie Mellon's CyLab.
"We are delighted to forge this new partnership between AMRITA, Indian institutions and the UC system," said Gretchen Kalonji, Director of International Strategy Development for UC's Office of the President. ""By expanding opportunities for international academic collaborations in critical fields, this partnership will not only help keep the University of California competitive — but it will help drive global innovation and economic prosperity."
"It is in everyone's interest to raise the level of engineering education in the global economy," said Frieder Seible, Dean of the Jacobs School of Engineering, who represented UCSD at the signing ceremony. "We expect some of the very best and brightest students participating in this program to come to the U.S. for post-graduate education, giving U.S. technology leaders such as Microsoft and Qualcomm access to more world-class engineers. So programs like this offer benefits to India and the United States alike."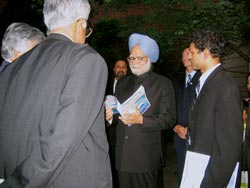 According to the most recent figures from the American Society for Engineering Education, nearly 58 percent of students enrolled in Ph.D. engineering programs in the United States are not U.S. citizens. The program will expose U.S. faculty to potential research partnerships in India, and could also promote more Indian students to gain admission into U.S. engineering schools from India.
"For centers like ours that rely heavily on partnerships with global companies, globalizing our own activities is critical to sustaining the engine of innovation that we are called upon to drive. This initiative is also a living experiment in understanding the effectiveness of distance learning in an environment that is full of promise", said Ramesh Rao, Calit2's division director at UCSD.
"While headquartered in San Diego, Qualcomm is a global company with an increasing presence in India's wireless market," said Jeff Jacobs, president of global development of Qualcomm. "We believe it is important to support the education and training of world-class engineers who have the potential to take our business to the next level in innovation. Our company is built on the premise that wireless technology can change the way people live and work, and this partnership with U.S. and Indian institutions is empowering a new generation of future technology leaders."
For its part, Microsoft India is partnering with Amrita University to set up the International Centre of Excellence in e-learning, for education, research and helping drive e-learning content. In its commitment towards driving IT education in the country, Microsoft India will be instituting a Microsoft Chair for three years at Amrita university.
"We have a long-term vision for the cause of IT education, wherein we are committed to empower students, educators and lifelong learners to achieve their fullest potential by providing greater access to the latest technologies and training," said S. Somasegar, Microsoft Corporate Vice President, on hand for the signing ceremony. "There is a pressing need today to accelerate the adoption of IT in the learning process and as a company, we are focused towards connecting the education community through solutions and powerful education initiatives such as this."
Visiting U.S. faculty will also be encouraged to explore research collaboration with participating institutions in India. The U.S. universities have also agreed in principle to make teaching materials available on a non-exclusive basis for a new digital content library being created by AMRITA for future students.
Amrita is the pioneering university in India to enter into such a international collaboration. This historic agreement will bring a major change in the higher education scenario in India. It will also go a long way in transforming India into a Knowledge society.
It may be recalled that similar Indo-US and Indo-German agreements in the 1950s, set the stage for the development of IITs, which are now counted among the top technical institutions worldwide. Now Indian students will be exposed to the nobel laureates teaching and knowledge content of American Universities without going to USA.
Amrita is already at the forefront in implementing tele-education and tele-medicine services in India. Along with ISRO, it hosts the largest tele-medicine and tele-education network in India. Amrita campuses at four locations in India, Amritapuri, Bangalore, Coimbatore and Kochi are connected via a multi-disciplinary, multimedia satellite network making it a virtual campus, the first of it's kind in India. The Amrita healthcare campus at Kochi, South India, which houses a 1300 bed digital super-specialty hospital has earned a reputation as one of the best hospitals in Asia. Tele-medicine services are provided to over 36 locations all across the length and breadth of India to places as far as Leh-Ladakh, the northernmost tip of India to the remotest islands of Lakshadweep. Actively involved in community development activities for rural transformation, along with ISRO and leading corporates, Amrita hosts the largest satellite network of Village Resource Centers (VRC) with 10 locations.
Signatories From the Indian side
Dr. G. Madhavan Nair, Secretary, Department of Space, Government of India & Chairman, Indian Space Research Organization
Prof. V. S. Ramamurthy, Secretary, Department of Science & Technology, Government of India
Dr. P. Venkat Rangan, Vice Chancellor, Amrita University.
From the US University side
Hunter Rawlings, President, Cornell University, Ithaca,
New YorkShankar Sastry, Director, CITRIS, University of California at Berkeley
Gretchen Kalonji, Director, International Programs, Office of the President Oakland, California
Frieder Seibel, Dean of Engineering, University of California San Diego
Pradeep Khosla, Dean of Engineering, Carnegie Mellon University, Pittsburgh, Pennsylvania
Satish Tripathi Provost & Executive Vice-President, University at Buffalo, New York Mark
Hans, School of Dental Medicine, Case Western Reserve University, Cleveland, Ohio
Corporate Partners
Irwin Jacobs, CEO of Qualcomm Inc
Ravi Venkatesan, CEO, Microsoft India
Deependar Saluja, Corporate Vice President, Cadence Design Systems.