4 May 2004 — Trissur, Kerala
During Amma's programme in Trissur, Amma gave wheelchairs—or rather, hand-propelled adult-sized tricycles—to 10 poor handicapped people. Wheelchairs are rarely seen in India's streets—even though so many are handicapped due to polio or birth defects. Wheelchairs like these cost around 5,000 rupees [roughly $115 U.S.D.]. That might not seem like a lot of money, but for many of India's poor, it is half a year's income. After Amma presented them with their wheelchairs, Amritapuri.org spoke to the recipients.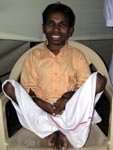 Devadas is a 28-year-old young man with a bright smile on his face. When we speak to him, his eyes are still glowing from his first-ever meeting with Amma. "I feel joy," he says. Devadas contracted polio when he was just three years old. His legs never fully grew, and his back is deformed. "I can crawl a little… but not too far," he says, smiling shyly. He is just over three-feet tall. "But now with the wheelchair, I can get around on my own. It is Amma's grace that I got this. I live with my mother in a little house in Trissur's outskirts, and now I can ride without anybody helping."
Devadas and his mother live on a government pension that he receives due to his handicap. It is only 110 rupees [$2.50] a month—enough for one good meal a day. "My younger brother drives a lorry," he explains, "and he tries to give whatever money he can spare, but he has a family of his own to support."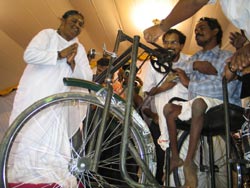 Rajeev is 45 years old. Despite his handicap he is married and has two children—two boys of eight and nine. His wife is also slightly handicapped. "I think very well of Amma," he says. "But it is mostly my wife. She does puja for Amma every day. We met Amma in Vallikkavu one time before." When asked about his income, Rajeev is reluctant to answer. "We live on the mercy of the people," he says. He means they have no choice but to beg. It is his hope that Amma's wheelchair will help him find employment.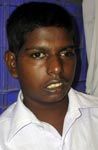 Sumesh is a 16-year-old boy. When he was very young, he had a strange accident, wherein a hard fall on his elbow paralysed the right side of his body. After that, Sumesh had no choice but to drop out of school. He lives with his parents and is the oldest of their three children. "I earn a little money selling lottery tickets," he says. In the morning his brothers sit him down in a street corner. In the evening, they pick him up again. "I feel very happy now," he says, after meeting Amma. "Maybe I can earn some more now because now I can go to different places in the wheelchair."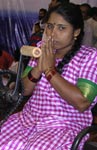 Girija is 23. She was born handicapped—both her legs are not fully grown. She acts shy when asked about Amma, finally saying, "I feel happy. Amma is… love!" She says that due to her inability to transport herself, she spends most of her days sitting at home. "I hope I can learn something now so I can find a job." It is her wish to make some money with which to start an STD/ISD telephone booth. "I am very grateful that Amma gave me the wheelchair," she says.
—Tulasi