25 June 2005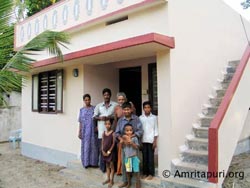 The Honourable Chief Minister of Kerala, Sri. Oomen Chandy will be handing over the keys to another 89 houses built for people of Arattupuzha Panchayat, Alappuzha District who had lost their homes in the tsunami. The ashram delegates will first present the keys to the Honourable Chief Minister. With this the total number of houses handed over to the beneficiaries by the Ashram will be 122.
The function will be held at Mata Amritanandamayi Math, Amritapuri on 26 June 2005 at 3.30 pm. Sri. K C Venugopal, Hon. Minister for Tourism will preside over the function.
In Tamil Nadu, where concreting for 30 houses is complete, the Math is the only organization to have started construction of replacement homes for the tsunami affected.