The Sata Chandika Mahayaga commenced in Amritapuri, amidst high anticipation and fervent devotion. Today was the second day of yaga, which was characterized by prayers for 'Loka Kalyana' or world harmony. The ashram reverberated with the sounds and smells of rites, prayers and unity.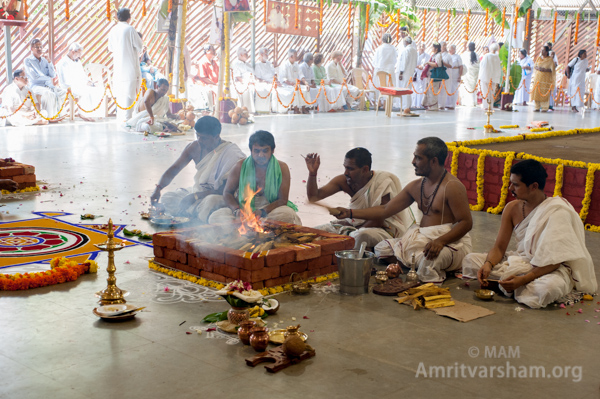 Notable poojas conducted today were the Navagraha Homa, the Navarana pooja, and the Navakshari Japa. The Navagraha homa, one of the most auspicious rites, tries to appease the lords of the nine heavenly bodies. The Navarana pooja glorifies Goddess Shakti, along with the 100 parayanas and Saptashati. The two unique poojas conducted today were the Rajopachara pooja and Moolamatra japa, with both trying to appease and harness the cosmic energy of Goddess Shakti. The next day will move to a higher level of pooja and japa, with the final day on 25th.
One of the priests who lead the chanting for the afternoon session had this to say about today's significance: 'This yaga will fulfil all wishes, those which are for the benefit of all humanity – man, animal, plant—all through intense surrender and prayer to the Divine Shakti. This yaga will bring about monsoon in the land of drought, and lessen the pressure of rain in flooded areas. That is the power of the Mahayaga.
The ashram was filled with strong cosmic vibrations as the pitch of chanting rose higher and higher, until the Mahamangal Aarathi, the day's culmination and Prasad offering. It is indeed a source of power for all of us, to help us through tough times, and rebuild the spiritual strength of our past.