25 Sep 2013, Amritapuri – Amritavarsham60 celebrations
The bansuri, most famously known as the instrument of Lord Krishna, filled the air here at Amritapuri, as Amritavarsham 60, Amma's 60th Birthday Celebrations was off to a flying start. Pandit Hariprasad Chaurasia, the maestro of the bansuri, began the night's performances. The Bansuri is a flute made from a single hollow shaft of bamboo, associated more with Lord Krishna and the pastoral tradition.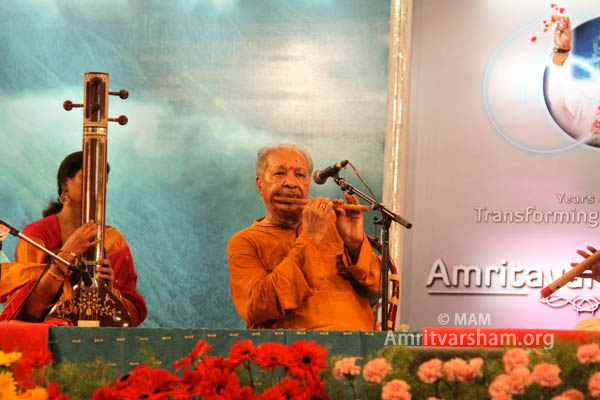 Born into a family and locale that was more famous for wrestling, than flute players, he carved a piece of history to his name– through hard work, sheer skill and God given talent. Showered with accolades like the Sangeet Natak Academy Award, and the Padma Vibhusan Award, he has worked with artists all over the world in experimental cross cultural concerts. From the moment he picked up his bansuri, the audience listened, enraptured.
His eyes were closed, but his face expressed the emotion felt as each note was played, and as the show progressed, the audience too, was immersed in the wave of melody. He was accompanied by his disciple, Vivek Sonar, who played the flute; Smt Kasturi on the Tanpura, Pandit Vijay Ghate on the Tabla, and Pandit Bhavani Shankar on the Pakhwaj. It started as a melody of flutes, moving on to an ensemble, with both artists taking the audience on a magical journey of sweet flute, tabla beats and the Hamsadhwani raga, a popular melody in South India. The audience clapped and cheered at the end of each sequence; even Amma paused and clapped with the audience as she was giving darshan. ! He switched flutes to a much smaller one towards the end of the performance, and played 'Om Jaya Jagadeesha Hare', which enhanced the devotional atmosphere. Not just by the music, melody and the powerful emotions that were triggered, but also by the divine talent of Panditji, who turned the Bansuri from an instrument into a source of bliss, devotion and prayer.
He has performed before Amma for Amritavarsham 50, her 50th birthday held in Cochin. This, however, was a whole different experience for him. "As soon as I got out of my car here at Amritapuri, I knew something was different. I felt Ma here… I have never felt this way anywhere..anywhere else in the world! This place, this hall, it is now a temple. To me, this was not a concert. It was an offering to Ma."
It was indeed the best possible start to a magical night, and momentous days that awaited Amma's children.