25 Sep 2013, Amritapuri
The devotees at the first day of Amma's 60th Birthday celebrations were thrilled at the sight of the world famous couple – Sri Ratikant Mohapatra and Smt. Sujata Mohapatra – two most prominent personalities in the world of Odissi dance.
The saying goes, "The real dance must convey the feeling of undivided existence, that a spectator can feel that he is not different from the thing observed". Indian Classical dance forms include not just dancing but also singing and abhinaya (mime acting) and convey this feeling just perfectly! Of the eight Indian classical dance forms, the Odissi dance originates from the state of Odisha, in eastern India, and is the oldest surviving dance form of India on the basis of archaeological evidences.
Ratikant Mohapatra, son of Guru Padma Vibhushan Kelucharan Mohapatra, is a dancer, percussionist, Guru, and choreographer of Odissi. It was under his direction and choreography that 555 Odissi dancers, a large number of them belonging to foreign countries, performed in unison at Kalinga Stadium, Bhubaneswar to enter their names in the Guinness Book of World Records. His wife, Smt. Sujata Mohapatra is an eminent Indian classical dancer and teacher of Odissi dancing style.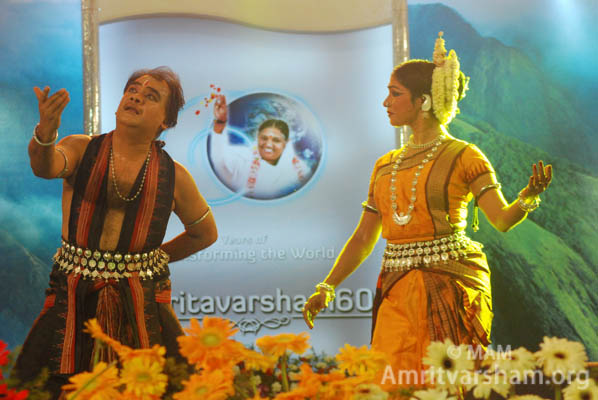 Grace was visibly flowing through the amazing dance performed by the duo. At 1.15am, the tired audience was energized by the Guru sthotra – "Guru Brahma… Guru Vishnu…" as Sujathaji danced in respect for the Guru, and mesmerized the audience in her yellow costume. Then brought alive by the duo was the Jatayu Moksha from the Shri Ramcharitmanas, an epic poem in the Awadhi language, composed by the 16th-century Indian poet, Goswami Tulsidas. People could experience, not just see, the pain of the Jatayu, played by Ratikant ji, who tried, but failed to rescue Lord Rama's wife – Sita – from Ravana, the Rakshasa King of Lanka, when Ravana was on his way back to Lanka after kidnapping Sita. Jatayu fought valiantly with Ravana, but as Jatayu was very old Ravana soon got the better of him. As Rama chanced upon the stricken and dying Jatayu in their search for Sita, he informed them of the fight between him and Ravana and the direction in which Ravana had gone. It was pure bliss to see Rama, played by Sujataji, lovingly heal Jatayu and thus give him moksha, or liberation from the cycle of birth and death.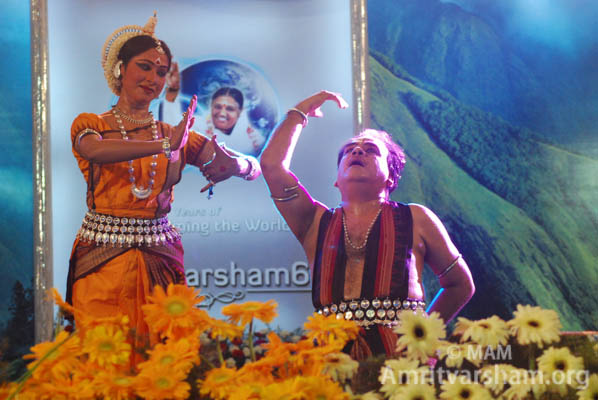 At the end the two danced in perfect sync bringing forth the beauty of Odissi dance and the vibrant sounds of the ghungroo (the metallic ankle bells) filled every heart with joy. Their performance was a true offering to Amma on Her 60th Birthday – an Odissi Pranam! Amma glanced at the dance in between the darshan and clapped.
The performance stole the hearts of the devotees, with its perfect blend of art and divinity.
– Shivangini and Sreerag