25 Sep 2013, Amritapuri
The sun has set and the people have started to go to their beds, but not in Amritapuri. Here Amma is awake and so are her children. Though the day has been a long and tiring one for most of them Sri Karaikudi R Mani made the atmosphere a vibrant one.
Mani became involved with Carnatic music at the age of three and soon abandoned his vocal training for learning Mrithangam. He received his first national award at the age of 18 from the then President of India, Dr. S Radhakrishnan.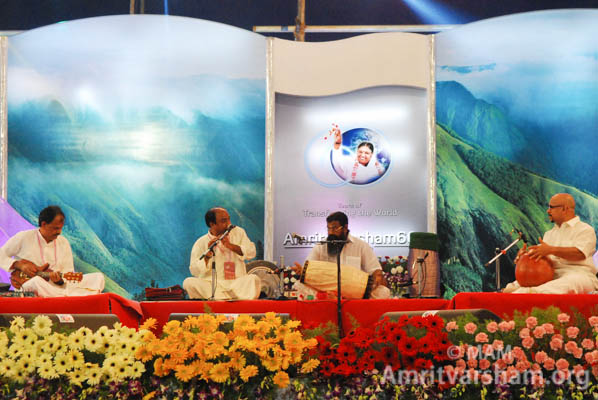 In 1993 Karaikudi Mani presented his first ThaniAvarthanam concert which was a style that was pioneered by him. Whilst ThalaVadya (Percussion ensemble) concerts in Carnatic music were not unheard of, the concept of just two percussion instruments performing solos without any other "sruthi" performers (e.g. vocal, violin) had never been attempted.
Twenty years later, here on the sacred grounds of Amritapuri, on a stage set up in grand splendor befitting Amma's 60th birthday, this Mrithangam maestro started off the Jugalbandhi with a bang in his own style. He ensured the audience enjoyed the music that was in the air. The Jugalbandhi of Mrithangam, Violin, Tabla, Flute,Ganchira and Ghatam created a symphony that is akin to Amma doing so many things at the same time during darshan! Music seamlessly flowed in making the night magical. With his extraordinary style he captured the minds of those present.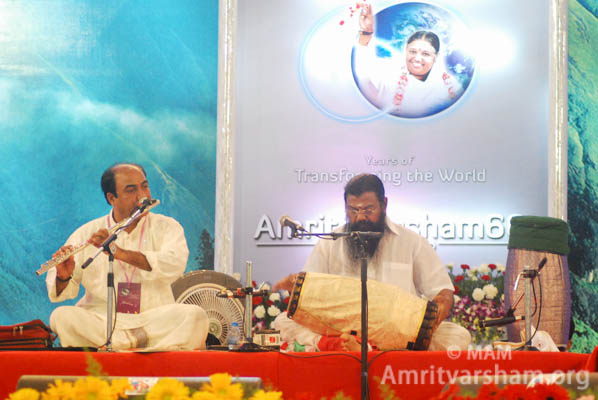 Seeming to add variety to the instrumental performance, Sri Karaikudi R Mani added voice with a short swara and also spoke:"It is a pleasant coincidence and pride that I complete my 60 years of Mrithangam performance in the same year Amma turns sacred 60." Turning nostalgic he went on with his composition Vasantha Pravaham which he had originally composed for his band Smrithilaya in 1986 .With simplicity, innocence and dedication he went on with the beautiful combination of melody and percussion which enchanted the audience.
With the same set of instruments various combinations of compositions were created and this was something unique about his performance. The musical treat culminated with a sweet surprise that Sri Karaikudi Mani had reserved for the Amma-loving devotees – one of the recent popular Tamil bhajans "jhalajhala vena"– the high tempo offering expressed through the instruments in high temposent the audience to a state of divine bliss. This gift from him on Amma's 60th birthday shows the dedication that the maestro had in understanding the importance of this event. Also, being played as a Jugalbandhi showed that words are not always necessary to communicate the emotion…Amma's children would aver that often her smile, gestures and looks do speak a lot.
– Rahul Raj