For Ammas sixtieth birthday, Her children in Idukki have decided to embark upon sixty deeds that would express Amma's teachings of Love and Compassion – from distributing clothes, toys and books, planting trees, cleaning hospitals, feeding the poor, repairing homes, paying medical bills, or even pledging to be willing cadaver organ donors – Ammas children are celebrating her birthday every day.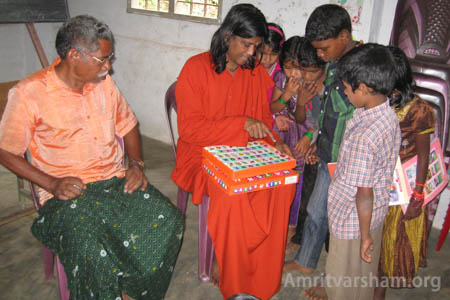 Ammas army of volunteers have put heart and soul into bringing a smile into the eyes and hearts of the young and the old across Idukki – be it building a kitchen for Lakshmikuttiamma, a sixty five year old woman with a paralysed husband, or buying roofing sheets for Radhamani Amma and her daughter, who were enduring the rains under plastic sheets after their roofing sheets flew away in the torrential winds that lashed Idukki.
The children in tribal anganvadis and tuition centres run by the Mata Amritanadamayi Math have been gifted with educational toys, books to read, uniforms, bags, clothes- T-Shirts, uniforms, festive clothes, and tailoring machine to provide livelihood for a woman abandoned by her husband.
Ammas children in Vandiperiyar gave a thorough cleaning to the Community Health Centre, planted saplings in the hospital compound and distributed food packets to all the patients and their by-standers.
Ammas devotees in Pambanar celebrated Ammas birthday with an awareness class and pledge on cadaver organ donation. Doctors from AIMS clarified their doubts.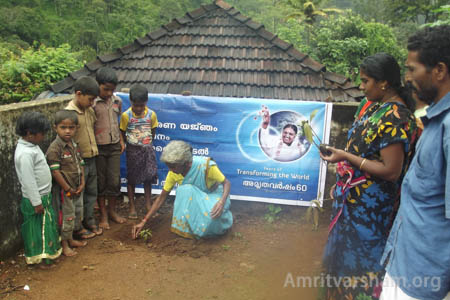 As part of the Plant a Tree campaign, the tribal king of Kovilmala Raman Raja Mannan planted a mango and a jackfruit sapling.
In Anganvadis and tribal hamlets, the young and the old, partake of Ammas love in the form of delicious food. In Inchiyani , payasam is distributed in the panchayat school. Old men and women, who live lonely lives of poverty in the hills of Idukki are given rice and lentils to celebrate Ammas birthday.This is just the beginning, and many more such expressions of Service are being planned in the coming days. Truly, a worthy birthday gift for our Beloved Amma by Her Idukki children.