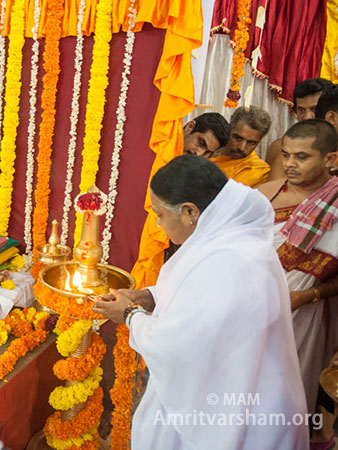 22 Sep 2013, Amritapuri
The celebration of Amritavarsham 60 begins!
With the age old traditional ritual called Maha Yaga or the great Fire Ceremony!
Amma, blessed the occasion by Her presence in the yaga shala this morning. Amma lighted the auspicious lamp which is symbolic of world peace and knowledge. Amma went about the yagashala, throwing flowers to the four directions. Then Amma showered flowers on the priests who were sitting in rows doing the Vedic chanting. Amma then offered prostrations and left for the stage to begin Darshan.
As preparation to this inauguration by lighting the lamp, this morning the three chief Ritwiks, head priest of Mysore Chamundi Temple , the head priest of Veda brahma sri Raghavendra ghanapat sampakatte karnatakai, Vedabrahma Ganesh Bhat Sringeri,veda Brahma Venkatesh prasad Kasaragod,Veda Brahma Lakshmiesh Tantrigal Thirthahalli,Veda Brahma Seetaram Udupa Aralasurli.Kollur Mookambika and the Acharya of the Vedagurukula of Kudachadrii which is performing the Chandika Mahayaga went to Kalari , the heart center of Amritapuri from where Amma started Her unique Darshan. Along with them were the devotee husband and wife Shayam Bhat and Aditi from Mysore, as representatives of the householders who in fact host the yaga. Swami Purnamritananda ji led them in the ritual of worship in the Kalari.
The procession started from the Yagashala, and after the brief ritual at the Kalari, it returned to the yagashala. Hundreds of Amma's children, along with Lakshmi the ashram elephant, partook of the holy procession. Panchavadya troupe, consisting of Amma's Paripally children, led the procession with their resounding drums and trumpets.