27 Sep 2013, Amritapuri – Amritavarham60
Laxmi Narayan Tripathi (known as Laxmi) is a transgender rights activist, Hindi film actress in Mumbai, India. She is the first transgender person to represent Asia Pacific in the UN. Laxmi is also a famous Bharatanatyam dancer, dance instructor and owns nine dance schools. She also runs an NGO called Astitva in Mumbai for the welfare of sexual minorities.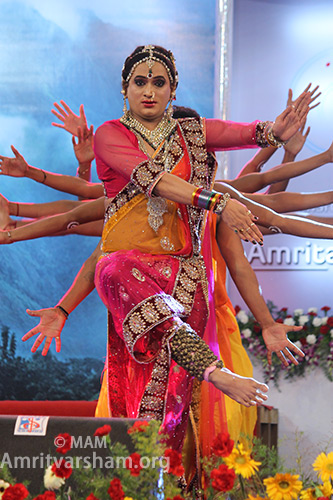 The performance started off with Amma's song "Sharanam Ambike".
Laxmi Tripathi along with three other artists, in their gorgeous Marathi costumes, danced to old nostalgic Marathi songs. Then came the crew's powerful performance on the Tamil song "Maari Amma" in which they used our beloved Amma's photo to enact the intensity of a goddess' power and love. During her performance Laxmi stopped by to call out "Amma pon Amma" and Amma turned around to see her and applauded her performance. It was endearing to see Amma appreciate Laxmi's performance, and the smile that lit up Laxmi's face showed how much our Amma's love means to all of us. Another highlight of the performance was the Hanuman Chalisa based dance of Lord Anjaneya's exploits and the depiction of Lord Krishna's story for which the whole team danced with contemporary steps that amazed the audience.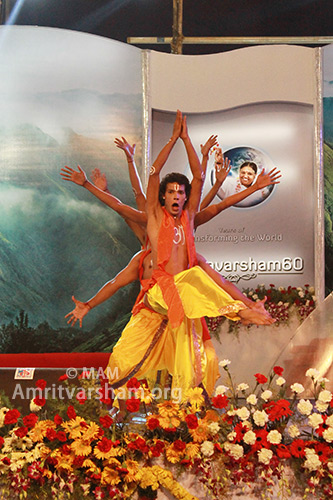 The team had a lot of diversity in their performance, not only in terms of the steps and movements, but also in the way they sequenced their songs and styles– it reflected both the past and the present of dance. It is to be noted though, that they all expressed love towards their art and Amma. During this remarkable act the team danced to songs with various kinds of emotions, situations, languages, expressions and culture, but they only convey one thing throughout – "For Amma no matter what we are, from where we are, or how we are… We are all her children, equal in front of her."
– Rahul Raj