26 Sep 2013, Amritapuri – Amritavarsham60 Celebrations
It was a great pleasure and a treat to experience the scintillating performance of Manju Warrier – a remarkable and a renowned Kutchipudi dancer and also an actress in the Malayalam film industry – at Amritapuri, on the occasion of "Amritavarsham 60″ celebrations.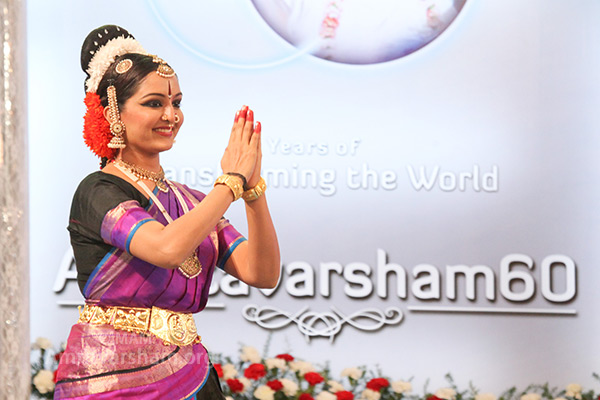 Manju – a perfect epitome of a child prodigy – is said to have danced, even before learning to walk!! She started learning Bharathanatyam, Mohiniyattam and Kuchipudi at a tender age of four. Even when she was at school, Manju showed extraordinary talent in dance, and won many accolades.
As an adage goes, "Talent is boundless of time", within a short span of just 3 years in the film industry, she emerged as one of the most admirable personalities ever. For sheer talent, awards come knocking the door!
On stage at Amritavarsham 60, Manju was started her performance with pranams at the lotus feet of Amma, with the sloka "namaste! Jagadekamaataah". Subsequently, the verses "jaya jaya devi ..jaya jaya janani…Amma .." along with the faster dance note was her special gift to Amma on her 60th birthday.
Then came a well laid out story line on Lord Balakrishna. The facial expressions conveyed everything to the audience. The commanding and motherly Yashoda, the shyness of Radha and the ever playful Lord Krishna himself, were depicted by Manju through her sublime expressions with so much perfection and ease – mark of a consummate actress as well as dancer. The highlight of the song was the scene where Lord Krishna tried to steal butter. The vocalists and side artists provided excellent support, as Manju sailed through the glory of the Lord. The entire story was depicted through a single line "Govardhana Giridhari", sung in different ragas, for different scenes of the story.
As minutes rolled by, the devotees were even more enthralled, and it, of course, had the special attention of Amma herself, who, amidst giving darshan to the beeline of devotees, paused exactly after each item and applauded wholeheartedly. Amma didn't miss out even the minutest opportunity to encourage this great person!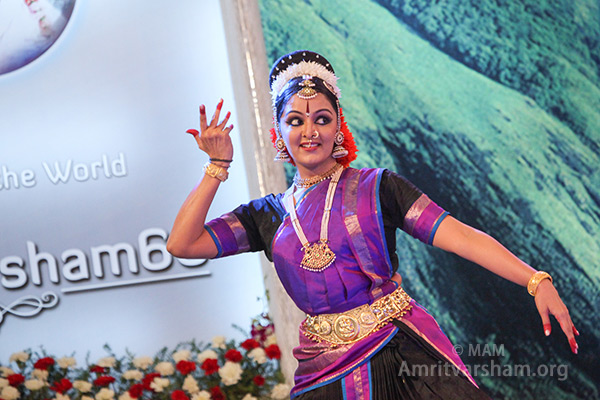 The performance ended aptly with a Durga Devi stuthi. Nobody could have asked for a better finish, as Manju, through her dance depicted that Amma was a true incarnation of Goddess Devi. The rapture of applause at the end of it signaled that the audience could not agree more with this depiction. Manju turned towards Amma's picture at the back of the stage with folded hands as if offering her performance to her.
She did not miss the opportunity to say a few words to thank Amma. In her concluding remarks, she said that it was her love for Amma that was portrayed by her performance.
– Varsha