28 Sep 2013, Amritapuri, Amritavarsham60
After the immensely lively Bhangra performance early in the morning, the next program was a vocal band performance by J Mascis, Finnish singer and guitarist Mikko Von Hertzen and Drummer Herb Graham Jr. J Mascis is an American musician, best known as the singer, guitarist and songwriter for Dinosaur Jr. The laconically-based roar of his guitar, drums and vocals have driven a long string of bands – Deep Wound, Dinosaur Jr., Gobblehoof, Velvet Monkeys, the Fog, Witch, Sweet Apple – and he has guested on innumerable sessions. Performing for sell-out crowds throughout the world he was polled 5th in Spin Magazine's Top 100 Guitar Players of All Time. Mascis met Amma in 1995 and says her teachings have profoundly influenced him and his songwriting. "Amma has given me a lot to write about," he said. "What better inspiration for songs is there than your guru? I am constantly crying out for help along the bumpy road of life."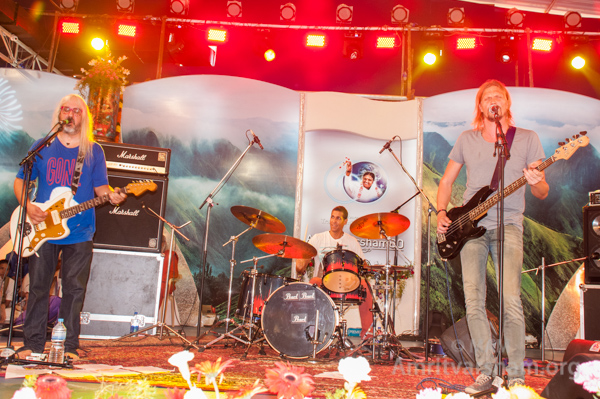 Speaking about coming to India to perform for Amma's birthday, Mascis said, "I feel so grateful to get a chance to offer some songs to Amma on her 60th birthday. She's given so much to this world. At least I can give this small thing to her." In 2003, Mascis came to India and performed at Amma's 50th birthday celebrations in Kochi. In 2005, he released J & Friends Sing and Chant to raise money to support the Mata Amritanandamayi Math's relief-and-rehabilitation work following the 2005 Indian Ocean Tsunami.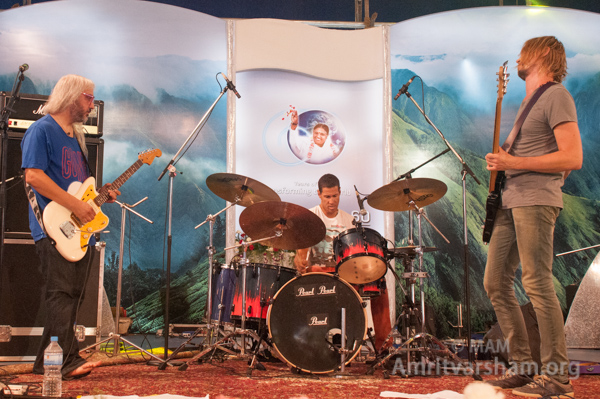 A morning full of beats, rhythm, drums and more! First the kavadyattam, then the Punjabi dhol and now the rocking drums, clubbed with the guitars! Herb filled the air with liveliness with his drum beats and solos. The rock band looked absolutely grand with the lightings in the background. Their first song being "Amma Amma…" was a tribute to our Guru. The audience thoroughly enjoyed the rock band's show! Amma's western children could be particularly spotted dancing to the beats! As Mascis sang with his eyes closed, the devotion and love for Amma were flowing through his guitar, his mike and higher to the audience. One could feel the depth in his voice! A truly inspired performance!
The trio totally enjoyed themselves, and so did everyone who was present there. What an energy filled morning of Amritavarsham'60! The view became further incredible when the rock band was surrounded with not only lights of different colors that seemed to change to the beat of the drums, but also the smoke rising into the air, giving the view of a real rock concert.
A few of Amma's international Children joined in for the Song "Amma tell me…" left everyone mesmerized! It was the first time many of us witnessed a devotional song so perfectly blend with rock music. Then the famous composition of Mascis – "Help me Amma..Please". Yes! In these difficult times, the Kaliyuga, all her children need her help, her guidance, her love!
– Varsha Suresh Kumar