28 Sep 2013, Amritapuri, Amritavarsham60
Balloons flying, people dancing, and clapping — yes, it was a birthday party. Amma's birthday Party! The devotees of Amritapuri were treated to a musical extravaganza, as they danced, young and old on the morning of the 28th to the tunes of Marie Philomene Nga.
Marie Philomene Nga is a singer/actress from Cameroon. She now resides in France, working on movies and television shows. She has been traveling all over the world, trying to unite people with her music. She is currently working on an Indo African fusion project, as part of which she performed at the Alliance Francais in New Delhi. She was joined here by some of our very own ashramites!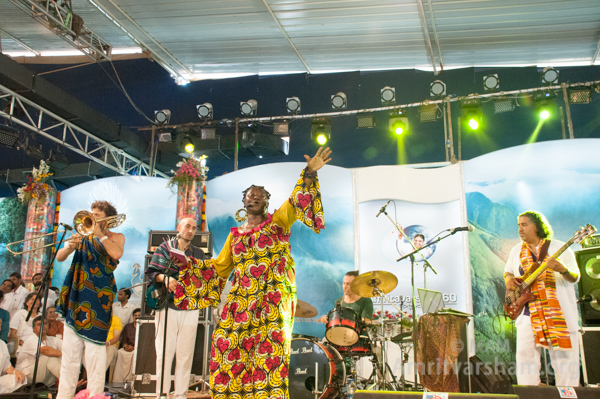 Dressed in traditional African garb she had with her an explosive array of instruments (trombone, balalaika, guitar, keyboards and drums). She had previously performed at Amritavarsham 50, and since then, has been a favorite among devotees. The audience loved her from the start, there was even a special team with balloons to cheer her on. A resonant, but dynamic voice that carried well into our hearts contained tons of expression of nothing but love. She sang always facing Amma, smiling as though in bliss (as the audience were). It was indeed like a birthday party, with balloons, people dancing and lots and lots of happiness!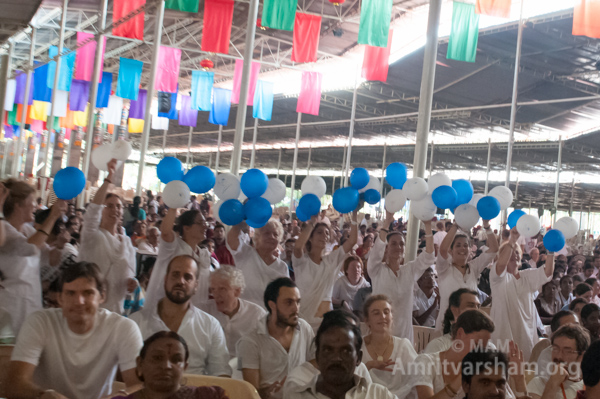 'Amma Baramma' set the audience clapping harder than ever, as it was given an African twist, with lively expressions, laughter and a sweet smile on Marie's face. When it reached the crescendo, it was truly a festival of love and devotion. She followed it up with another popular bhajan, 'Parasahasra hrudayangalil dhyanikkunu' that was a letter perfect rendering, without even a hint of accent. Such was her dedication and love in preparing for Amma. But the best was yet to come, with 'He Amba Bol ' and an ensemble of other Kali bhajans like 'Jai Jai Jai' ,'Om Namah Shivaya', bringing the audience to their feet singing and dancing ! The number, 'Jaya Jagadambe was supposed to be the last one, but a smiling Amma motioned for her to continue. Such is the love of Amma — giving a chance to her children to enjoy together, as one. A three year old Aikyam joined on stage with Marie and it was indeed very cute watching them sing together in praise of Amma!
When presented with the memento, she simply turned to Amma, and touched her heart. 'Amma, Amma, Amma', she chanted, closing her eyes. As she sang 'Happy Birthday', her eyes moistened, and her face was filled with compassion. It was proof of the fact that the love of our beloved Amma can unite not just music, but people across the borders of the world.
– Varsha Suresh Kumar