27 Sep 2013, Amritapuri – Amritavarsham60 Celebrations
Students from various Amrita Vidyalayams in Kerala performed dance dramas portraying India's rich mythological tales. The students were dressed beautifully for the dance and also for the roles each of them portrayed. Amrita Vidyalayam moulds the students in art, culture, spiritual and modern learning. This came out clearly in the dance dramas which they performed elegantly.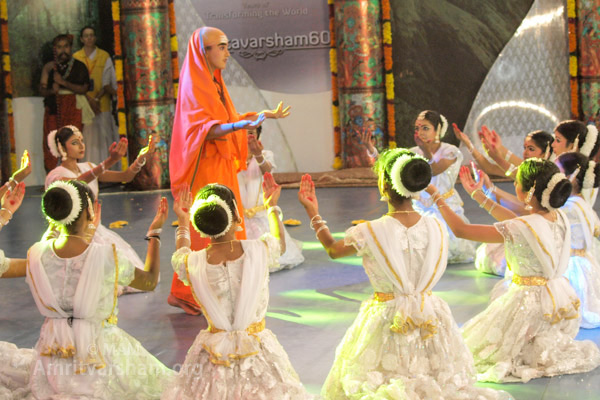 Amrita Vidyalayam Thalassery's dance drama portrayed a short story on Adi Shankaracharya, one of India's legend. They distinctly highlighted the incident when Adi Shankaracharya confronts Chandala (Lord Shiva disguised himself as Chandala) and taught him a lesson that being a preacher of Advaita Vedanta he has attained Self-Knowledge and considerations like caste are irrelevant. Scenes of how Adi Shankaracharya built four Mathas (monastries) were depicted beautifully.
Amrita Vidyalayam Tanur performed a dance drama relating to Ramayana, on how Ratnakar, a dacoit, became the great sage Valmiki who wrote the Ramayana. They beautifully danced along on how Narada comes to Valmiki and gives him a brief outline on Rama. The hymn which Valmiki sang at the sight of the wailing female bird whose mate was killed by a hunter touched the hearts of many in the audience.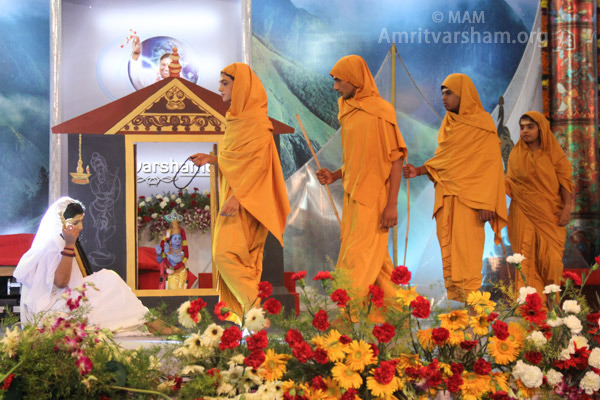 Amrita Vidyalayam Thrissur gave a brilliant performance of the short life incidents on the great Shivaji Bhosle (founder and first Chhatrapati of the Maratha Empire), who strived to preserve the Indian customs and culture and strove for Swaraj (freedom). It was indeed a wonderful portrayal of India's finest heroes.
Students from Pandalam depicted the mythological story of Kalidasa. Kalidasa, a mentally challenged shepherd, got married to Vidyottama, a learned princess through a conspiracy. At the behest of his upset bride, he sets out to acquire scholarship and fame if he desires to continue their relationship. He hides in the Kali temple and succeeds in getting a vision of Goddess Kali who renames him Kalidasa. He becomes an adept sanskrit writer & poet. It was wonderful to see Kali Ma — both on stage, and even as she was giving darshan!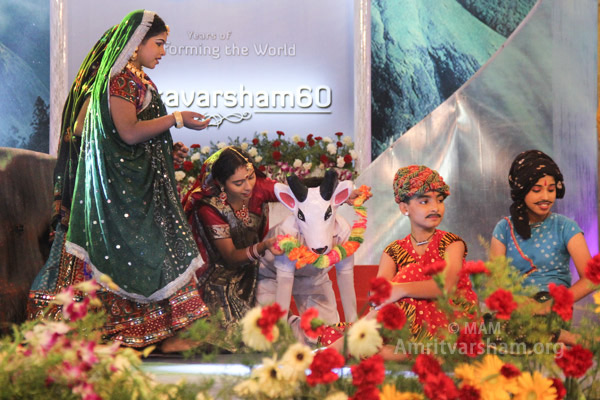 It was followed by a performance portraying Meera's devotion to Lord Krishna by Amrita Vidyalayam Kodungallur. Meera had fondness and love for the Murti (idol) of Giridhar Gopal. The students' depiction of how Krishna lifted the Govardhan hill was mesmerizing. The scene of Meera disappearing into the Dwarkadhish Murti (Image of Lord Krishna) in full view of a group of onlookers elicited thunderous applause. Students of Vadakara depicted the life of Swami Vivekananda who asserted that Truth alone triumphs, not untruth. It was an apt message for this day, where Amma tells us to act for the benefit of mankind, and always uphold our values.
Amrita Vidyalayam Chavakad students portrayed a story of Ashoka the Great (Indian emperor of the Maurya Dynasty), and the Kalinga war, which pushed him towards ahimsa (non violence). A semi classical dance performance by Amrita Vidyalayam Kannur students, a "naivedyam" (offerings to God) to Amma describing her greatness, and a gitam by students from various Amrita Vidyalayams rounded off a wonderful performance by Amma's school children.