The Mata Amritanandamayi Math (MAM) launched a massive global afforestation programme GoGreen today when Kerala Chief Minister Oommen Chandy inaugurated a year-long plan aiming to plant 60 lakh saplings across the world – marking the start of several MAM initiatives in the run-up to September 27 — the 60th birthday ofAmma.
"Environment protection and conservation is one of the most important services we can do for society," Mr Chandy said. "It is laudable that the Math has undertaken such a project on the occasion of Amma's 60th birthday,"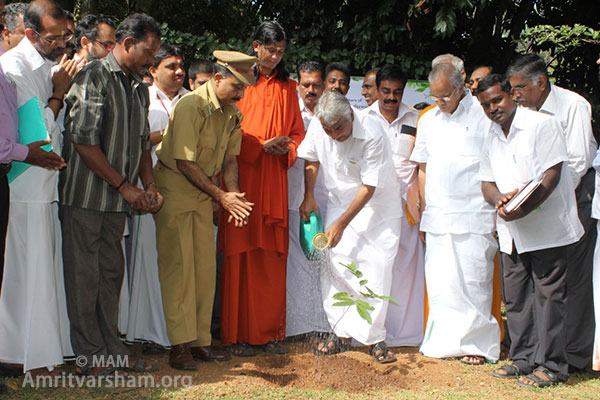 After planting a seedling in the Chief Minister's official residence in Thiruvananthapuram, Mr Chandy said the Kerala forest department would provide six lakh saplings to be planted in the state by mid-2014.
Of the six lakh saplings, the state forest department would hand over the first 1.75 lakh soon. Subsequently, 50,000 saplings would be provided every month with the aim of meeting the target for Kerala by June 2014 — the onset of next monsoon.
At today's ceremony in Cliff House, Swami Jnanamritananda Puri of MAM's Amritapuri Ashram said the celebration by Amma's devotees the world over serve as a reminder of the decades of selfless service that she has rendered to society. "The new programmes we have launched are an extension of the compassion, kindness and love she has for the people," he said.
Present among others were Br Sivamrita Chaitanya Br Tapasyamrita Chaitanya of MAM, Principal Chief Conservator of Forests BS Korri and Assistant Conservator of Forests Jayakumar Sharma.
MAM will organise the distribution and planting of the saplings across India and abroad.
As a member of the United Nations Billion Tree Campaign, MAM has already assisted in the planting of more than one million trees since 2001.
The GoGreen program is part of volunteer-run green activities conducted by MAM. These include the Amala Bharatam Campaign (ABC), a program aimed at improving public health and at restoring India's physical beauty. Through ABC, the MAM has already undertaken more than 1,000 cleaning drives throughout India since 2010. In fact, at the request of the Kerala Government, it has cleaned up hundreds of tonnes of trash from the famous pilgrimage site of Sabarimala Temple and the adjoining the Pampa River in south-central Kerala.
The afforestation and MAM's cleaning drives are part of Amma's teaching that "The Creator and the creation are not two", and that service to the environment is service to the Divine.