Bharata Yatra 2004
12 March 2004 — Bhopal, Madhya Pradesh
No one really knew how many people would come to see, hear and be touched by Amma in Bhopal. She had only visited the Madhya Pradesh capital once before in 1989, and then only a few hundred came to have Her darshan.   As it would turn out, a crowd of some 70,000 was waiting at the program site upon Amma's arrival and She was formally greeted by the state's Governor, Chief Minister and two former Chief Ministers, as well as Bhopal's mayor and distinguished representatives of MP's Christian, Hindu and Islamic communities. Actually, Amma was an official guest of the state and, as such, She was greeted at the border by the District Collector of Jabua and given a police escort all the way to Bhopal.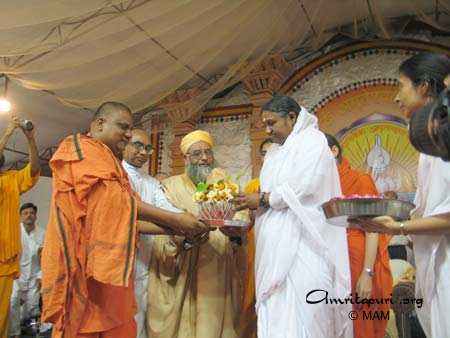 Chief Minister Uma Bharati—a sannyasini initiated by Madhvacharya Vishwesha Tirtha of Pejavar Math in Udupi—spoke beautifully about Amma, welcoming Her "not as the Chief Minister, but as Her child." She said, "We love Amma not because of who She is, but because of who we become in Her presence." She later added that Amma's love was like the rays of the sun, the coolness of the moon and the flow of a river—She gives it to all, without discrimination.
The state's former Chief Minister, Shri. Digvijay Singh, was emotional during his speech, recalling how he had been waiting for quite sometime to see Amma and how his desire had now finally come true.
Shri. Babulal Gaur, MP's Honourable Minister for Urban Administration, Housing & Development, said the citizens of Bhopal were overwhelmed by Amma's presence. "She is the embodiment of a mother's love and protectiveness."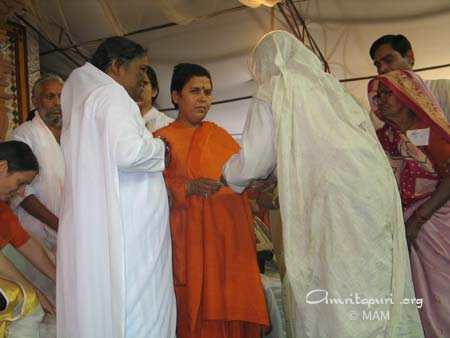 Chief Minister The Arch Bishop of Bhopal, His Grace Dr. Pascal Topno; the Sahar Qazi, Abdul Latif Khan; and Swami Atma Bholananda of the Ramakrishna Math all presented Amma with purnakhumba  and prayed to Her for world peace, calling the 70,000 men, women and children surrounding Amma to join in chanting the mantra lokah samastah sukhino bhavanthu .
Uma Bharati also joined Amma in presenting free pension checks to Bhopal's destitute widows, as part the Mata Amritanandamayi Math's ever-expanding Amrita Nidhi program. The Math also gave away 700 saris to impoverished women and provided free food to all who came to the program. At the time of this posting, more than 40,000 people had taken tokens to receive Amma's darshan.
—Sakshi