15 May, 2001, Amritapuri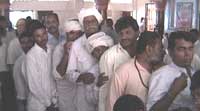 The leaders of the villages Mother is adopting in Gujarat made the long train journey to southern Kerala just in time to see their new Mother before Her departure for the US Tour.
They were on a mission:
Representing the people of the villages where Mother is helping reconstruct homes, schools, churches, temples, mosques and clinics, these men of the earthquake-devastated Bhuj area of the north-west corner of India came to Amritapuri on Tuesday, 15 May, to extend a personal invitation to Amma.
As each man approached Mother for darshan, his question – translated by Brahmachari Sadashiva, one of Amma's children who had arrived first on the scene last January – was the same: "Will Mother please come visit our villages?"

Smiling warmly, rubbing the speaker's chest just over his heart, and then perhaps grasping his prayerful hands in Her own two Hands, Mother gave each the same basic reply: "When the reconstruction is finished, Mother will try to come for the opening ceremonies." This would be a special prasad for these new children; something rare and beautiful would grace their shattered homeland.
After their darshan, since Mother had told them to sit near Her for some time, the men gathered on the floor to the right of Her bench. They were sarpanches and other village leaders and one swami. This swami's school, serving the local children, had been completely flattened by the earthquake, but not a single child had been killed!

They spoke of the work going on now at home, saying that they were very grateful that it was Mother's offer for adoption that they had accepted, for it is only Her people who had already launched so fully into the construction work. Others were awaiting the Government's promised contribution of 50% of costs. As is generally the case, government action gets under way slowly, with so many bureaucratic steps to be taken first. In Mother's world, Her decision to act is the first step and action itself is the second.

Construction materials had begun to be shipped north even before building permits were granted. Last March, sitting on his cot in the tiny hut that serves as home and office for the four or five men who have been in the area since the disaster struck, Brahmachari Abhayamrita had said, "Why wait for paperwork and only then get the materials? We can truck them up here now and the minute permission comes we can start to build."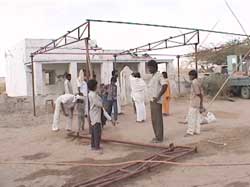 This is the understanding of needs and the commitment to action that characteristics Mother's children's relief work everywhere. And this is why the people of Her adopted villages are so satisfied with their choice. There is more to why they are satisfied, of course. As they discussed when they made the choice, they believe that the land itself will be made holy if Amma sets Her Foot there. Now they have reason to hope that that day will come!