13 May, 2001, Amritapuri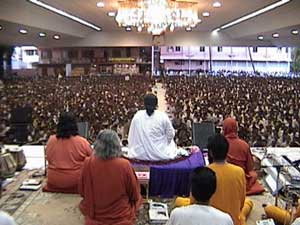 During the last few days before Mother leaves for any extended tour, especially one to foreign countries, as if determined to have a final long swallow of water before crossing the desert, people converge on the oasis of the ashram. The crowds are huge. Baths start at about two thirty in the morning. Meal lines snake in endless convolutions. Queues form long before the token counter is to open. During the day the temple balconies are packed and so are all available stair-wells-especially those with a view of the temple stage. Even the front steps of the temple are jammed full, as people wait for their turn. In the evenings, people take their seats early to get close to the big stage for bhajans out in the huge new program hall south of the temple building.
On Sunday Mother started darshan ten minutes before ten in the morning. Even though many devotees do not go to morning darshan, choosing to come only once when Mother will embrace them in Devi Bhava, still there were about five thousand people for morning darshan. By noon, thirteen thousand tokens had already been issued for Devi Bhava; by dinner time, the total was fifteen thousand -and the counter would not close until twelve midnight!
Having left the temple at two in the afternoon, Mother was out again for satsang, meditation and bhajans before five in the evening. Bhava darshan itself began at 7.30 in the evening. By maintaining the incredible pace that is usually seen only on Her Birthday or in certain cities like Kozhikode (approximately 1150 hugs per hour), Mother was able to rise from her chair at ten the next morning. Having hugged at least sixteen thousand of Her children, Amma stood for yet another ten minutes, showering the devotees with flower petals: Hands filled to overflowing with blossoms, and completely still-except for Her Eyes, which moved slowly over all Her children, and at last looked up at only-She-knows-what before they closed and the doors were shut.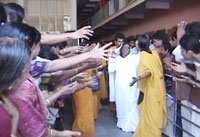 Fifteen minutes later, looking fresh (this must be the greatest miracle!), Mother, was clad again in her trademark simple white sari when She emerged from the stage door, made Her way down the ramp, and passed between long lines of devotees and residents-stopping now and then to speak one last word, offer a final caress, or playfully pinch one more cheek. She stopped at the top of the steps to Her room, placing
Her Hand over Her Heart, and gazed again at Her children assembled below-every bit the Mother reluctant to leave Her children. It was ten thirty, Monday morning. For almost all of twenty four hours Amma was with Her children, talking to them, singing bhajans or giving darshan.
This particular Sunday, when Devi Bhava began, it was Mother's Day – if not in India, then elsewhere on the globe. When asked what She is "really" doing when She hugs people, Amma has said, "I am trying to awaken the motherhood within them." Elaborating, She has explained that every human being, male or female, has the capacity for "Motherhood": the capacity to be generous, open-hearted, compassionate, patient, accepting, and unconditionally loving. This is what She wants to bring to full expression in each of us. She was certainly doing Her part this Mother's Day. Are we?