20 January 2001, Chennai
During the Chennai Brahmasthanam Festival keys were distributed to recipients of Amrita Kuteeram, Mother's house-building project for the homeless. The Union Minister for Rural Development, Sri Venkaiah Naidu, handed over the keys in the presence of Amma.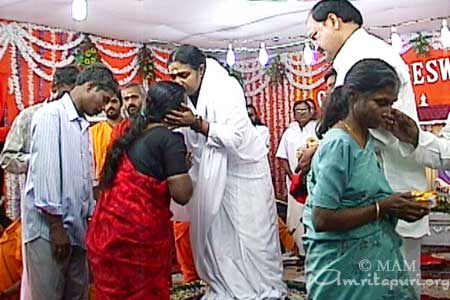 Speaking on the occasion, he said: "I am not a spiritual man. I am an ordinary person, but I can tell you that I am really mesmerised, thrilled, and inspired by the service Amma is doing for the people. I can say that she is doing more than I am doing as a government Minister, and more such activities are forthcoming that will be really useful in answer to the people's problems.
"I have seen how blind people smile, how Amma touched them and they smiled. They are filled with joy because they are getting something of their own, their own house, their own shelter. Deprived women, the handicapped, the blind – I see a light in their faces because of the blessings of Amma. I am really happy about it."