25 January 2004 — Coimbatore, Tamil Nadu
The last stop on Amma's South India Tour began today in Coimbatore, at the Brahmasthanam temple. These next three days will enjoy a Brahmasthanam Festival complete with the regular planetary pujas and archanas, and Amma's bhajans, satsang and darshan.
This evening's programme began with the garlanding of Amma by local VIPs. Member of Parliament Shri. C.P. Radhakrishnan, the Mayor of Coimbatore, Shri. T. Malaravan, and Coimbatore's District Collector, Shri. N. Muruganandam IAS, all received this blessed opportunity. The esteemed guests were then welcomed with the presentation of bouquets. A special souvenir publication was released.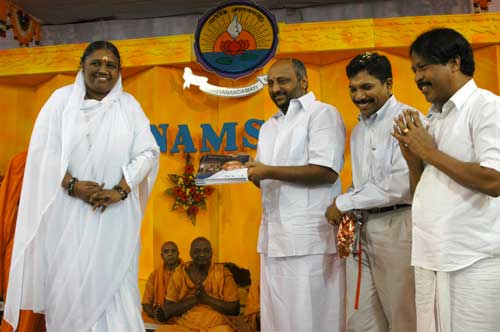 in the above photo:
Releasing the souvenir by  Amma, Member of Parliament C.P. Radhakrishnan,
District Collector N. Muruganandan, the Mayor of Coimbatore T. Malaravan
Also highlighted tonight was the inauguration of another Amrita Nidhi pension program. After the traditional lamp was lit amidst the chanting of verses to Ganesha, Shri. C.P. Radhakrishnan distributed the pension certificates to 10 widows from the surrounding region. Thus was initiated the local phase of this renowned pension scheme, which is bringing a welcome amount of relief to many such unfortunate women across India.
Afterwards, Amma gave satsang and led bhajans before commencing with the evening's darshan program that continued until sunrise.