27 November 2003 — Pampa, Sabarimala, Kerala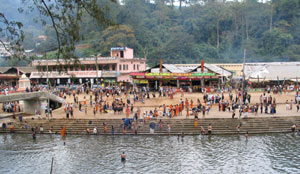 On 17 November, 2003, on the bank of the Pampa River, two journeys began: one towards spiritual health – the great pilgrimage to Lord Ayyappa at Sabarimala, wherein over the next 41 days, millions of Swami Ayyappa devotees from all over India will walk the hour and a half uphill trek to the Sabarimala Temple, carrying offerings such as coconuts and ghee, and maintaining vows such as eating only vegetarian food, and abstaining from negative habits such as smoking and drinking.
The men traditionally dress entirely in black and chant the mantra of Swami Ayyappa, while seeing in everyone and every deity the form of Swami Ayyappa alone. The men are addressed as "Swami" and the women as "Devi", which is meant to invoke the presence of the Lord in all. It is one of the largest and most sacred pilgrimages in Kerala.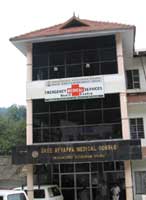 In connection with this pilgrimage season, the second journey is one towards physical health: For the duration of the 41 day festival, AIMS, Amma's celebrated super-specialty hospital in Kochi, has created a special emergency medical centre, complete with a Telemedicine facility provided on 6 December. Swami Turiyamritananda Puri inaugurated this year's medical unit.
Between 17 November and 26 December, the Unit tended to 8468 patients – which translates to over 200 a day! Of the 188 inpatients, 10 were sent to AIMS, and another 31 treated at the on-site ICU. This Medical Unit is a great boon to the pilgrims, assuring them of the highest standard of physical care while they tend to the care of their spirit.
This is the second year that AIMS has had a presence at the sacred site. Last year, AIMS performed a successful heart surgery here for one of the pilgrims via Telemedicine.
The M.A. Math set up both 'Green Friends' and Bookstore stalls as well.