September 2003 — Cochin, Kerala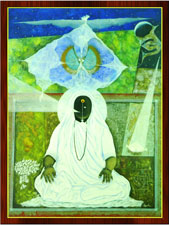 True art must necessarily be inspired art, and it is therefore with great anticipation that we await the 'Colours of Compassion' Exhibition, to be unveiled during the Amritavarsham 50- Embracing the World for Peace and Harmony celebrations in Kochi next month.
In response to the fount of inspiration that is Amma, has come an outpouring of tribute. 125 nationally and internationally renowned artists, including fifteen National Award winners and thirty-two State Award Winners, will join in publicly offering their visionary talents in honour of Amma. They will display their work portraying aspects of Amma's remarkable life, spiritual teachings and charitable activities, in styles ranging from realistic to abstract. Sixteen traditional Indian styles will also be incorporated into the overflowing visual symphony. The artists' brush-strokes have aspired to capture the infinite moods of Amma within 12 sq. feet of canvas.
In a special highlight of the exhibition, these artists, who will be present for the entire four day celebration, will contribute to a live show on a 250 foot canvas based on the theme 'Love and Serve'.
This unique exhibition, the first of this scale to be organised by a private organisation in India, will be on display in the International Stadium in Kochi from 24th to 27th of September.
Artists representing the USA, Finland, Germany, Austria, Italy, Ireland, Bahrain and Japan are participating including: Marja Hallen, Finland; Luise Kloos, Austria; Michiko Hasegawa, Japan; Pamela Avril, USA; Steven Doyle, USA, Sandra Spannan, Germany; Elizabeth Slomka, USA; Aaron Groff, USA; Luigi Mariani, Italy; Joseph Mavelikara, Italy; Promilla Shaw, Ireland; Bob Dodge, USA
Of the National artists participating, the list includes: Central Academy Chairman, Kerala Academy Chairman, Karnataka Academy Chairman, Arpana Kaur, Vasudeva Akkitham, Jaysree Chakra Barthi, Vijay Shinde, Jay Sarottia, Vir Munshi, Paris Mohan Kumar (one of forty painters worldwide recognized by the UN), Artist Namboodiri, Professor Kattornarayana Pillai, K. Jayapala Panikkar, B.D. Dathan, and Kala Dharan.
Principals from the following institutes will attend the Exhibition: Santhiniketan of Calcutta; Faculty of Fine Arts, Baroda; J.J. School of Fine Art, Mumbai; School of Fine Arts, Delhi; Fine Arts College, Trivandrum; Abhinava Kala Vidyalaya, Pune.