31 August 2003 — Amritapuri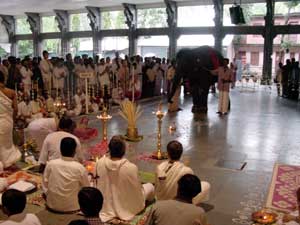 Sri Ganesha, in the form of Ram, the ashram elephant, was led into Amritapuri's large hall at about 8 a.m. this morning. The waiting devotees received Him with expressions of joy, for today was His birthday, Ganesha Chaturthi.
Standing within an area cordoned off by elaborate kolam designs (decorative patterns made out of rice powder), coconut leaves and golden hibiscus flowers, Ganesha, was offered flower petals by the ashram pujaris, and lively bhajans by the ashram residents and visitors. The entire ashram turned out to offer their adoration.
At one point, the bhajan, "Gajanana, he Gajanana" was reaching it's climax. Sri Ganesha (Ram) responded by raising His trunk and holding His head high, while stretching out His front legs and bending toward the ground. The effect was a graceful bow, which was perfectly timed with the music.
With trays full of fruits and other offerings spread out before Him, Ganesha was fed and arati was waved before Him. As the puja ended and Ganesha was led out, He poked His head into the Indian store, and the girls working there got the chance to personally offer Him some fruits.