9 September 2000, Amritapuri

Onam is a festival of sharing. On the tenth and last day of Onam, all the people of Kerala enjoy a great feast. Even though traditionally people stay at home and celebrate with their families, many of Amma's children came to spend this holy day at Amma's abode, feeling Amritapuri to be their real home.
On Sunday, Mother came out early so that She could give darshan to as many devotees as possible before the feast began. On Her way to the temple, Amma fed Ram, the ashram's baby elephant, some bananas. He approached her like all devotees on this auspicious day: freshly bathed, wearing his best clothes-a bright yellow cloth on his back!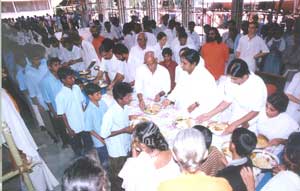 At 11:00, without a moment's break or even a drink of water, Amma moved from giving darshan in the temple to serving food in the new darshan hall. In only one and a half hours, 5,000 people were served. When the queue was finished and it seemed that all had received prasad, Amma surprised everyone as She waited, patiently, for more of Her children to come.
Some devotees were crossing the backwaters, fervently praying that they would arrive in time. Amma stayed until the last of Her children had received prasad, even though there was very little time before the start of the bhajans that preceded the Devi Bhava darshan.