22 August 2000, Amritapuri
The festivities began at 6:30 in the morning with a special procession from the Main temple to a local seaside temple. A large number of ashramites, devotees and visitors took part in the procession, singing Krishna bhajans, clapping hands and dancing! The baby elephant 'Ram' was decorated to lead the procession, but it seemed the loud drums and horns were too startling for him!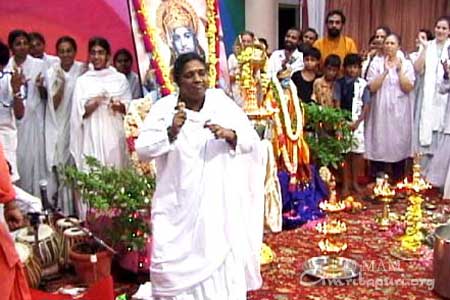 In the afternoon, crowds gathered eagerly to celebrate with Amma. Although the weather has been unseasonably rainy, the sun came out for Krishna's birthday so that everyone could gather in front of the temple. Amma watched the children play at breaking swinging pots of water, a game reminiscent of Krishna's escapades stealing pots of butter. First the little children played, then those a bit bigger, then young brahmacharis and computer students had their chance, too. Mother sat near the bottom of the temple steps, close enough that a bit of the water thrown at the 'little Krishnas' who were playing also splashed on Her! Amma watched the fun, laughing often and pointing out the most adorable scenes. She quickly became the concerned and disciplining Mother when the games started to get wild; then again, She became the tender, compassionate Mother when some youngsters got minor scratches and came crying for Her caresses.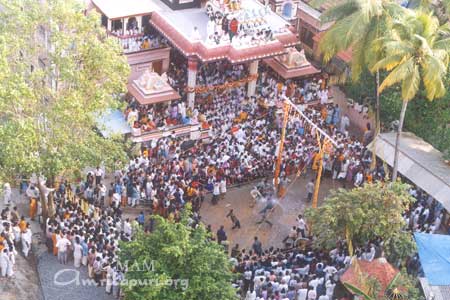 After the games, Mother went to Her room, returning almost immediately for the evening bhajans. The prayer hall was decorated with garlands and colourful balloons. Led by Amma, the bhajans enchanted everyone present. Shortly after, a cultural program took place. Mother and the entire audience were moved to gales of laughter as they watched a play by two western children and a mime performance by students from the nearby computer institute managed by the ashram. The computer students and some ashramites also performed many beautiful traditional Indian dances.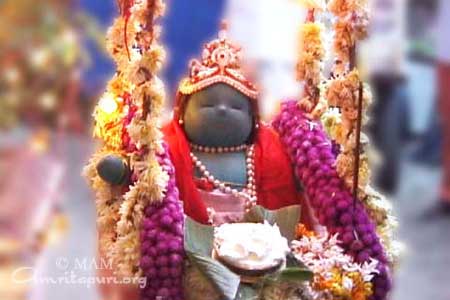 At about 11:00 p.m., Mother moved from the prayer hall to the inner temple, where a reading of the Srimad Bhagavatam was taking place; and the special Balagopala Puja honouring the birth of Krishna began. The spot where Mother usually gives darshan served as the puja area, and was adorned with a beautiful Krishna statue, oil lamps, garlands, trays of flowers and a large painting of Amma as Krishna. With the added divine presence of Amma, the scene was extraordinarily beautiful.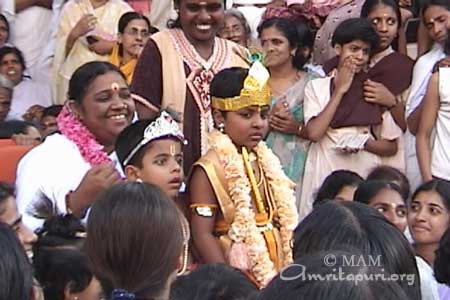 At the stroke of midnight, Amma started a special bhajan session with the traditional first bhajan for Krishna's birthday – ' Agatanayi Agatanayi'. Clapping Her hands and smiling, She sang many other Krishna bhajans creating a very lively and playful atmosphere. At the conclusion of the puja, prasad was shared with all.