5th European Youth Exchange
19 – 26 July 2009, M.A. Center, Germany
From 19th to 26th July 2009 young people from all over Europe flocked to the M.A. Center Germany to participate in the 5th annual European Youth Exchange. "Give Peace a Chance" was the theme of the week, which for the third time was generously funded by the EU's "Youth in Action" programme.  The event was also registered as part of the "Worldwide March for Peace and Non-violence."
Br. Shubamrita Chaitanya and Bri. Dipamrita Chaitanya presided over the retreat. Through their witty and lively talks they provided the youth with spiritual insight as well as concrete, practical solutions to bring about peace in various fields of life. Every day a different theme was discussed: Peace with Yourself, Peace in Relationships, Peace with Strange People, Peace amongst Religions and Peace with Nature.

Daily question & answer sessions gave the participants the opportunity to go deeper into each of the topics and clear their doubts. Matthias Lehmann, former national committee vice president of AIESEC, the world's largest student organization, in Hungary also addressed the youngsters.
Each day started with a prayer and meditation for world peace. In the evenings all assembled to sing bhajans and pray for peace. Every country group also prepared a song, sometimes in their own language, and presented it to the rest of the group. Throughout the week one could see and hear young people singing and playing music everywhere.
Since the first European Youth Exchange in 2005, AYUDH groups have sprung up in most European countries. During the first three days of the conference these groups presented their recent projects and achievements. It was very inspiring to see the incredibly wide range of activities and efforts they had made to put Amma's teaching of love and service into practice.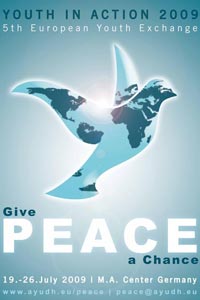 Projects ranged from visiting care homes for the elderly to outings with handicapped people, organic gardening to large-scale bee-keeping, waffle baking to charity dinners in order to support the charities of M.A.M. In the latter part of the week the participants worked on developing new projects and activities in their respective countries.
In the afternoons the youth had a wide range of workshops to choose from, according to their personal interests. These included Environmental Protection, Personal Development, Recycling, Sculpting, Acting, Dance, Bhajans, Tai Chi, Volting, Yoga and Meditation.
One of the highlights of the week was the planting of a peace tree on the compound of the M.A. Center. Everyone joined in the chanting of the peace prayer " Om Lokah samastah sukhino bhavantuh – May all beings everywhere be peaceful and happy" while the participants blessed the tree with sacred water, soil and flower petals.
In their free time the participants had the opportunity to deepen their connection with youth from other countries, cultures, and backgrounds. Leisure activities included ice-breaker-games, a picnic in nature and a bonfire, which was accompanied by music and cheerful singing.
The atmosphere was very joyful and warm. A unique spirit of togetherness prevailed throughout the week. Some of the participants were real "veterans", they had been coming to M.A. Center Germany since the first Youth Exchange in 2005. However, every year new people join in. It was beautiful to see how everyone was welcomed, newcomers got integrated and everyone opened up to others. Many of the participants mentioned that they felt like being part of a big family, so happy and grateful to share their spiritual interest and sincere desire to work together for a better world with people of their age, which is often not the case in their usual environments.
At the end of the week, the youth reflected on what they had learned in a workshop called "Discipline of Peace". Using the ancient system of the medicine wheel of the Native Americans the youth formulated powerful statements in respect to each of the topics discussed:
"Inner peace is the key to peace in the outside. We should take time to develop inner peace, in order to be able to share it with the world."
"Giving in a relationship is the same as giving to yourself, because we all are deeply interconnected."
"When we look with our heart, we will realize that truly there is no difference between religions. There is only one essence, which all souls long for, this essence is Love."
"As we are part of Nature, we need to care for her, then She will take care of us. Once we realize our oneness with Nature, we will realize that we have the power to change, to reverse the problems of Nature."
"To have a personal goal is important, but to have a common goal is even more powerful."
One of the common goals amongst the youth is the protection and preservation of Mother Nature. Inspired by Amma's request to start growing organic vegetables the youth decided to launch a new project – "Grow In" – which aims at encouraging young people to grow their own veggies – be it in their gardens or even on their balconies in the city. With this in mind, one of the workshops produced a video-clip, which serves as a step-by-step guide to organic gardening.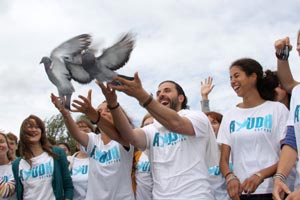 As a tradition, the last evening of the week saw a presentation of all the different workshops. Performances ranged from dance to heart stirring songs. A fashion show displayed very colorful items, which had been recycled from trash. Meditative movements of Tai Chi calmed down the audience while the "Acting and Speech-Performance" group made everyone raise their voice to practice public speaking. Applause and cheering knew no ends.
Before departing all participants were given certificates of participation by Mr. Willi Kredel, the Mayor of Brombachtal. In his speech Mr. Kredel remarked that he was very impressed to see so many young people gather to reflect on the topic of peace. Seeing this common, multicultural effort he said that he now had hope that peace does in fact have a chance.
The local media also reported about the programme. The TV station HR reported twice about the event and several newspaper articles were published, one on the front page. It was titled: "The Youth Gives Peace a Chance".
It is hard to put into words what this week long gathering had meant for many of the participants. "Give Peace a Chance" was much more than just a meeting for theoretical discussion. Rather, it was a week to experience the unity of hearts, beyond the boundaries of nationality, religion or culture, a week to explore the power and impact that a common goal and unified action can have. It was a week that proved that peace does in fact have a chance if only we stand together and dare to try.
–Nath
"May the tree of our life
be firmly rooted in the soil of love,
let good deeds be the leaves on that tree,
may words of kindness form its flowers,
and may peace be its fruits."
—Amma