28 March 2009 — Nairobi, Kenya
On March 28, 2009, a few weeks prior to Amma's Kenya programs, AYUDH-Kenya undertook its first project—cleaning up a slum. Approximately 150 young people took part in the cleanup, which took place at Maringo Estate off Jogoo Road in Eastlands, Nairobi. The clean-up was headed by Brahmachari Shantamrita Chaitanya and was done in cooperation with the World Sports Ministries Group of Kenya.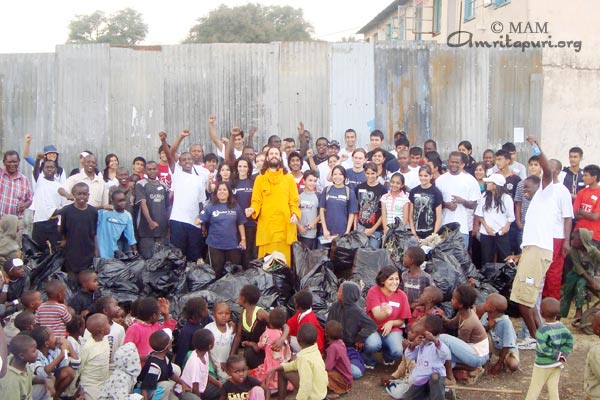 "The aim of the project was to enable youth from various cultures, religions, and social backgrounds to unite and collectively participate in cleaning up the Maringo Area," said Brahmachari Shubamrita Chaitanya, another brahmachari helping with Amma's activities in Kenya.
Participants were split into groups of eight to 10 people. They cleared blocked drainage systems, cleaned streets and collected trash. Some of the drains had been blocked for several months—a serious health threat for the many children playing near the stagnant water.
AYUDH-Kenya also spent time educating the slum's youth regarding the importance of environmental cleanliness and protecting Mother Nature. From now on, the youth living in the slum will regularly visit the cleared areas to ensure the neighborhood remains clean and green.
– Das