Br. Shubamrita visited the Republic of Kenya from February 5th to 13th 2009.
More than 350 guests attended the public talk, bhajans and meditation led by Br. Shubamrita held at the Oshwal High School Auditorium, Nairobi on February 7th  evening. The topic on which he spoke, "Take Charge of Your Life," was well received by both Indians and native Kenyans.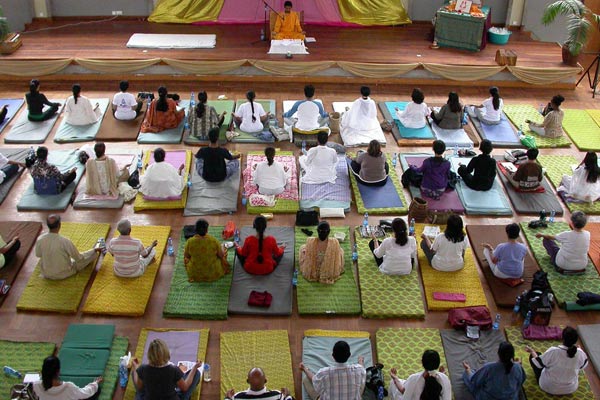 Nearly 120 people participated in the Integrated Amrita Meditation Technique ® Course on February 8th.
Br. Shubamrita also visited several children's care homes to distribute food and interact with the children. Amma's organization will soon start projects in Kenya to reach out to impoverished children in Kenya. A children's care home will be constructed near Athi River, on the outskirts of Nairobi. The project is to be launched during Amma's visit in April.
Br. Shubamrita also met with a group of youth with albinism. He encouraged the young adults to believe in themselves and follow their dreams.
Br. Shubamrita addressed around 80 of the local managers and staff of Sher Karuturi Ltd., the world's largest rose-producer on the subject "Spirituality and Management."
Br. Shubamrita also conducted hour-long radio interviews with Sound Asia and East FM.
Recent activities of Amrita Center Kenya include regular visits to orphanages to distribute food and basic necessities to the children. Charity movie shows, dance performances and art exhibitions have been organized in order to support the funding of the upcoming Children's Home. The youth group AYUDH Kenya has started an initiative to collect books for a library of the Children's Home.
watch photos here