29 January 2009— Tiruvanantapuram Brahmasthanam Program
On the first night of Amma's programs at her ashram in Tiruvanantapuram, the Mata Amritanandamayi Math (MAM) furthered its commitment to education. Vidyamritam Scholarships were given to 180 children of Tiruvanatapuram District, and MAM inaugurated its new arts-and-crafts school, Amrita Shilpa Kalakshetra.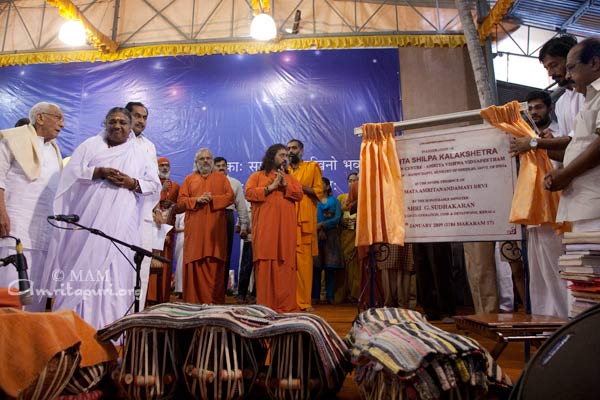 In the presence of Amma, G. Sudhakaran, minister of the Devaswam Board of Kerala, inaugurated the arts-and-crafts school. Addressing the gathering, he said, "This world is full with tension and war. Peace and harmony is the slogan of Amma.
War can be for good or bad. Reject the bad. Even if the war is for good, it should reach peace – that is the message Amma presents before us.
From badness to goodness, from darkness to light, from death to immortality—this is the vision of India. The educational systems, institutions, research and architecture India had in 6,000 to 7,000 BCE no longer exist—universities like Taksha Shila and Nalanda. Back then, the tradition was 14 teachers to one student. Now even one professor for 1000 students is not available."
Amrita Shilpa Kalakshetra is an extension of MAM's university, Amrita Vishwa Vidyapeetham. One of its primary aims is to train talented youth in traditional wood-carving, an important aspect of Indian art. Like most crafts in India, wood carving was traditionally taught by artists to their children, and thus carried down from generation to generation. As such traditional lineages have deteriorated, it is MAM's intention to help restore the lost art to its former glory and status.
The institute's training program is recognized and approved by the Government of India's Development Commissioner of Handicrafts, Ministry of Textiles. The institute is located in Poonkulam, Vellayani, Tiruvanantapuram. It will soon begin conducting month-long and six-month-long courses, providing deserving students monthly stipends of Rs. 2,000 during their courses.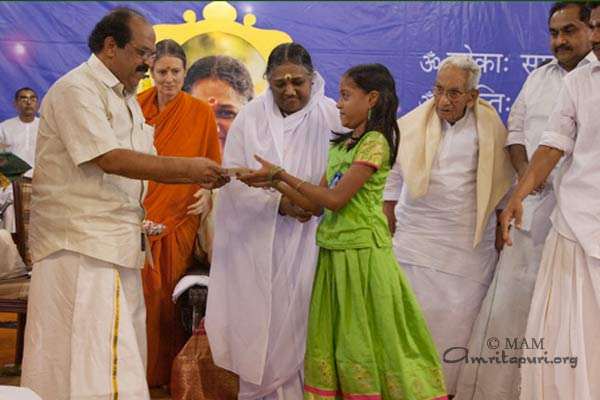 Regarding these scholarships, as well as the Vidyamritam Scholarship Program, Sudhakaran said, "In India, giving 100,000 students substantial scholarships—as Amma is doing in Kerala, Maharashtra, Andhra and throughout India—is no small thing. Not even the government is providing so many scholarships."
Eight new Amrita Sree* self-help groups were also launched during the program, with Congress Party Leader K. Karunakaran distributing working-capital bank-loans to the groups. Addressing the gathering, he said, "When I reach Amma's feet, I feel a satisfaction, a happiness. I cannot say exactly why. Experience is the guru. When Amma visits countries that do not know much about India, and I see them become emotional, I also become emotional."
Ramesh Chennithala, MP and working-committee member of the Congress Party, also addressed the gathering, saying, "The world is pervaded with Amma. Amma is God in a visible form. Here you can unburden your mind's sorrows and sufferings. Love, brotherhood and purity spread wherever Amma walks. This is why hundreds of thousands of people come to Amma. People around the world can live together with mutual love, respect and faith, and go forward without dispute. Amma is showing us this path. May Amma's blessings be there for the world and for all the people."
Other dignitaries present on the dais included P. Surendran Pillai, MLA; George Vargheese, deputy director of Handicrafts Department, Government of India; and arts patron Akira Fujisawa.
– Tulasi
* Launched in 2007, Amrita Sree will benefit 100,000 women. It is part of MAM's Farmer Suicide Prevention Program. The goal is to form 5,000 self-help groups. So far 3,000 have been created. Not only does MAM help the women form the groups but also helps them attain bank loans for working capital.