Members of the government approached Amma for advice regarding the inner psychological state of members of the Indian paramilitary forces. Amma decided to reach out to them through providing IAM Technique classes for the entire forces of the country – 2.5 million strong.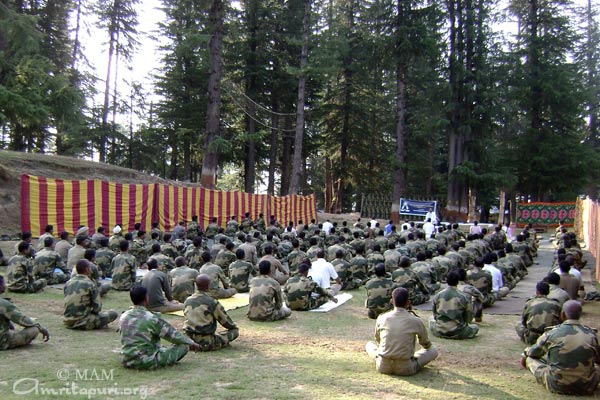 The original IAM Techinque was modified to suit them and enable them to reduce the stress levels. A presentation was made to the government officials with an offer to teach it free of charge. Once they were convinced of its effectiveness the project was commenced in July 2007. A group of 30 brahmacharis formed 10 teams and spread out in all directions.
The project should be concluded around the end of 2009 reaching the targeted 2.5 million military personnel.
At the end of September 2008, 180 3-day camps had been held, benefiting about 800,000 personnel. The brahmacharis teachers teams have also properly trained a select group of trainees from among the force personnel have been selected who will be teaching the course to others and also conducting IAM sessions in their respective units.
Realizing the effectiveness of the technique in reducing stress levels – the forces have decided to incorporate this technique in their regular schedule. They also have to send quarterly reports to the Home Ministry detailing how they have been implementing this technique in their respective units.
The paramilitary forces covered include:
– Border Security Force (BSF) – some of the most inhospitable terrain is manned by the BSF including the extremely sensitive borders with Pakistan and Bangladesh.
– Indo Tibetan Border Police (ITBP) – The high altitude Himalayan mountain police force of the country. They patrol areas with elevations between 9000' – 18000' along the 3500 km long Indo China border. Also engaged in VIP security and guarding Indian missions in war torn countries like Afghanistan.
– Sashastra Seema Bal (SSB) – Guarding the borders with Nepal and Bhutan. Have been assigned the added duty of fighting naxal terrorism.
– Central Industrial security Force (CISF) – Protect all the sensitive industrial installations, ports, airports etc. Have the added responsibility of VIP security.
– Central Reserve Police Force (CRPF) – The largest paramilitary force in the world with a strength of 200 000 strong personnel. Entrusted with counter insurgency operations in J&K, North East and left wing terrorism infested areas apart from UN operations in Lebanon, Sierra Leone.
Pilot classes have also been taught to soldiers of the common Indian Army and Navy.
– Das
watch photos here