26-27 April, Trissur, Kerala – Bharata Yatra 2015
After the Manjeri Brahmasthanam Pratishta, Amma arrived in Trissur to conduct a two-day Brahmasthanam festival.
Upon her arrival, she sang few bhajans and served dinner prasad to the volunteer devotees.
At the start of the Brahmasthanam celebrations, Amma distributed Amrita Nidhi pensions, Vidyamaritam scholarships, as well as seeds to promote organic farming.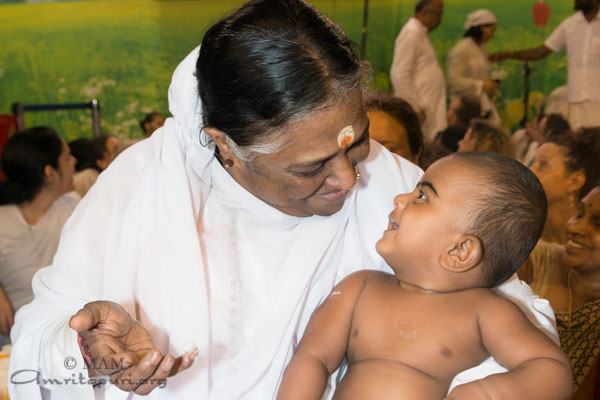 District Judge Anitha MR; Deputy Mayor Sarojini PV; and Smt. Shoba Surendran helped Amma to distribute the items. Many of the beneficiaries were in tears as they received their pension benefits from Amma.
Many other dignitaries came to welcome Amma. Among them were Trissur District Collector Smitha J, IAS; dancer Padmashree Kalamndalam Kshemavati; Swami Muktananda of Vivekananda Kendra; Poet/Writer Chovvalloor Krishnan Kutty; Therambil Ramakrishnan MLA; Film Script Writer Madambu Kunjukuttan; and Tekke Madhom Mooppil Vasudevananda Swamiyar.
Amma led everyone in a prayer for those affected by the recent Nepal earthquake. Amma added that just praying is not enough. In line with Amma's message of compassion, Amma sent a team of Embracing the World volunteers to Nepal to initiate relief efforts in the region.
The first evening saw heavy rains, but that did not disrupt Amma's darshan.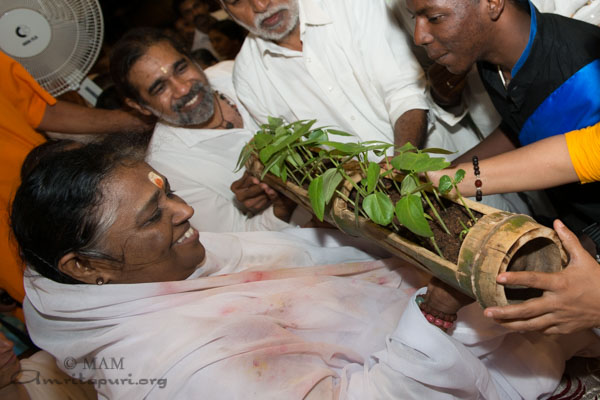 AYUDH had a special stall during the program. A mobile vegetable garden was set up to inspire and teach people how to start their own organic gardens in their homes and apartments – whether it be on the rooftop, balcony, veranda, or window railing.
Since the program venue was surrounded by fields, many bugs and crickets came to the pandal at night – adding high frequency music to the bhajans while Amma was giving darshan.
Amrita Vidyalayam children from Trissur presented wonderful cultural programs, showcasing the real treasure of the land of temples and the cultural capital of Kerala.
– Kannadi