10 April 2015, Kuala Lumpur, Malaysia
Amma visited Malaysia for a one-day program at the Mines International Exposition Convention Center just outside of Kuala Lumpur.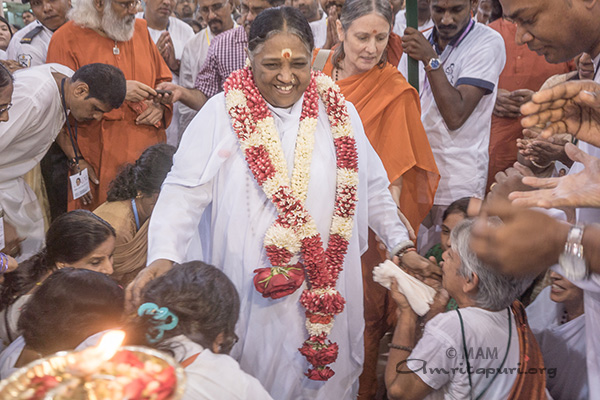 Amma was garlanded and welcomed to Malaysia by an array of dinitaries – The Most Venerable K. Sri Dhammaratana, Chief High Priest of Malaysia; Madam Dayani Lee, Group CEO of Country Heights; Puan Fatima, CEO of PDD; and Mr. Raman Lal, from the Indian High Commission. This was Amma's 7th visit to Malaysia.
As part of Amriteshwari Foundation's Embracing the World activities, Amma handed out stipends to 40 children to help with school supplies and uniforms.
Amma gave satsang, sang bhajans, and led the Manasa Puja in Tamil before giving darshan to all. The program ended just before noon the next morning. The Malaysia programs have been the largest outside of India with many attendees coming from all over Southeast Asia.
– Dass