22-23 March, Nerul, Navi Mumbai, Maharashta – Bharata Yatra 2015
For two days Amma held the Brahmastanam festival in Mumbai.
As Amma reached her Nerul ashram on the evening of March 21st, she was welcomed by the local devotees with tears of joy in their eyes. As it has become a tradition on this tour, Amma spent the first evening in her ashram serving food and singing bhajans – this time A-i Bhavani and Tandana Tandana, two up-beat bhajans which made the crowd cheer and celebrate with Amma.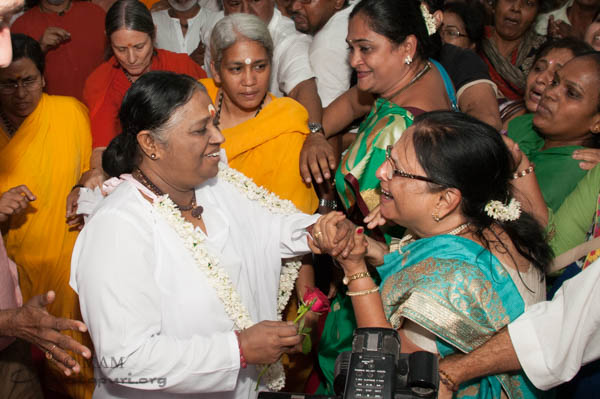 In the conversation that followed between Amma and the devotees, one devotee asked the question: "Amma, your needs are very little. We, on the contrary, never seem to be getting enough, we are never satisfied. How can we overcome our desires? "
Amma replied: "The reason that you are always craving more and more is due to ignorance. Awareness is the light which dissolves the desires."
Especially the first day of programme in Mumbai saw an unprecedented crowd, overflowing to the streets surrounding the ashram.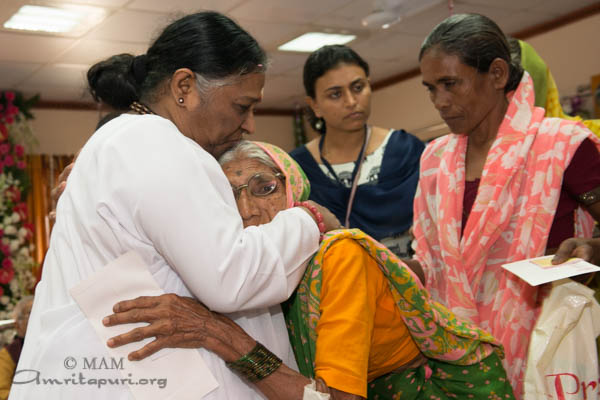 During the public program, Amma distributed Amrita Nidhi pensions and Vidyamritam scholarships to deserving children.
AmritaSeRVe programme has reached out to several villages in Maharashtra, empowering the tribal women of the villages through vocational training programmes to earn their own livelihood. One group of such women from the Rensai tribal village came and proudly presented their handmade malas to Amma. By selling these, they can sustain themselves and their families with a steady income. They also presented a traditional dance for Amma.
Always joyful and ready to serve, the AYUDH Mumbai group was very active and helped in all areas of work throughout the programme.
Many dignitaries came to pay their tribute to Amma and seek her blessings, amongst them were Vidya Balan, film actor; Anjali Menon, film director; Nikhil Sinha, one of the directors of 'Devonki Dev Mahadev'; and Sudha Chandran, the TV / film actress.
One of the cultural highlights of the programme were the joyful and uplifting bhajans of Shailendra. The whole crowd was clapping and singing along to his heart-stirring tunes.
Both days Amma held Satsang, Bhajans, Manasa puja in Hindi language and darshan.
One of the largest brahamstanam programmes on this tour came to an end, with Amma singing "Guruvadi vani sun lo" – a Punjabi bhajan, leaving behind many fond memories in the hearts of the devotees of Mumbai.
– Sundar