19-20 March, Pune, Maharashtra – Bharata Yatra 2015
It had been two years since Amma visited the city last, so the devotees were eagerly awaiting Ammas arrival at Pune for a Brahmastanam Festival.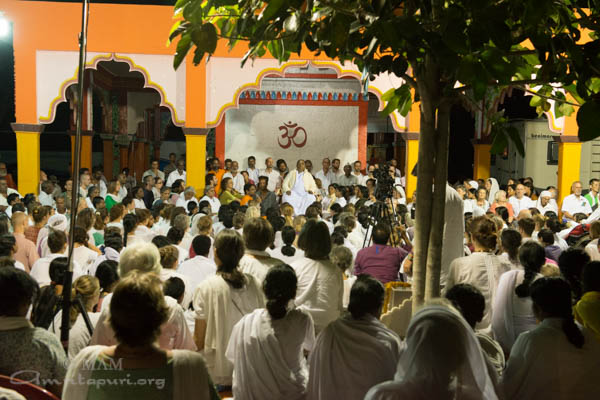 Earlier, on the way from Hyderabad to Pune, Amma stopped at a the Umarga Dattatreya temple, to serve dinner and sing bhajans with everyone. In this beautiful and profoundly spiritual surroundings one of Ammas international children took the opportunity to ask Amma whether she could reveal some more details about the ashram that has presumably existed hundreds of years ago in the same place where Amritapuri is located now. Amma replied that this ashram had been a place of intense spiritual quest, where many people attained samadhi. Amma continued to say that even in the early days of the ashram Amma had foretold that the land belonging to 46 families surrounding the Kalari temple will ultimately be part of the ashram premises.
The tour group reached the Pune ashram on 18th March at 06:30 in the morning, after a 17 hour bus ride from Hyderabad. That same evening, Amma served prasad dinner to all tour staff and local devotees, answered their questions and sang joyful bhajans.
Amma also distributed Vidayamritam scholarships, providing free education to deserving children and Amrita Nidhi pensions to impoverished widows.
To the delight of the devotees, Amma led the Manasa Puja in Hindi and sang many new Marathi Bhajans.
Pune is known for its rich cultural and spiritual heritage – many renowned artists offered their musical renditions to Amma: Sanjay Garud, disciple of Pandit Bhimsen Joshi, the famous hindustani singer, presented soul-stirring devotional bhajans, called Abhangwani
Deepak Bhanuse delighted the crowd with a flute recital and a traditional Bhajan group sang the Marathi style Haripath.
A disciple of Briju Maharaj, Pandit Nandkishor Kapote presented Kathak, a classical dance form of North India.
Amma is well known to for her ability to convey the most profound teachings to people of any age. During darshan, 8-year old Pahi asked Amma: "When I watch TV, I see the political leaders arguing and fighting a lot. How can people who argue so much lead a country?"
Amma replied: "My child, discussion is very important. Meeting should be a meeting of hearts, not just of the intellect. Through discussion we can learn new ideas, acquire knowledge and rectify our misconceptions. However, the ideas and opinions we share should not be an expression of our egos. If you can learn and imbibe this art of leading a productive discussion, you will benefit greatly when you grow up."
Next, it was the girls grandfathers turn for darshan. He complained to Amma that Pahi has been using the tablet computer for too many hours. Even Pahi herself admitted to Amma that she was addicted to the gadget.
To this, Amma gave the following advice: "You should use the tablet and not let the tablet use you. Don't allow this gadget to be your master. Learn how to make proper use of technology and use it for your own benefit and the benefit of others."
Dr. Vijay Bhatkar, Chairman Board of Governance IIT Delhi, one of India's leading technological institutes came for Amma's darshan. He said: "I was tremendously inspired by Ammas vision, from her project announcements during Amritavarsham60, to encourage college students to work in India's villages after their graduation. We are committed to implement this vision and have asked all IITs in India to encourage their graduates to dedicate at least one or two years in a village and to develop something useful for them and empower these villages. It has become a trend that students go abroad in search of a job after they obtaining a degree. We want to change that."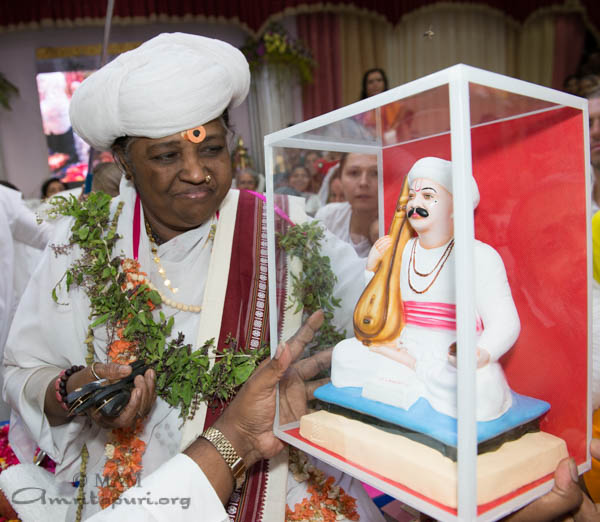 March 21st marked the New Year for many parts of India. Celebrating this Gudi Paduva – the name of the New Year in Maharashtra – many devotees turned their darshan into a celebration of an auspicious start to the New Year – singing and dancing with lamps in their hands as they approached Amma for blessings.
Towards the end of darshan, one devotee dressed Amma up as Sant Tukaram, one of the famous saints of Maharashtra, wearing a shawl and white turban.
As Amma finally concluded darshan at 4:30 am, she asked everyone close by which Marathi bhajan they would like to hear. After a short debate, the clear winner was 'A-i Bhavani', which Amma sang to the joy of all those present.
The very name of the city Pune means punya nagari – meritorious city. Clearly, the devotees of Pune were showered with an abundance of blessings as a response to the loving welcome and pure devotion they expressed towards Amma.
– Kannadi