Heading out from Bengaluru, Amma and the tour group continued traveling north to Hyderabad, once part of Andhra Pradesh, and now part of the new state of Telangana. This will be Amma's first visit to the new state.
On the way to Hyderabad, Amma stopped with the tour group on the grounds of a factory that happened to be just off the side of the highway. For years the owner of the factory had been watching Amma's weekly talks on the local language television channel, but he had never had the chance to meet Amma in person. So imagine his surprise when he saw Amma and her tour group pull unexpectedly onto his property!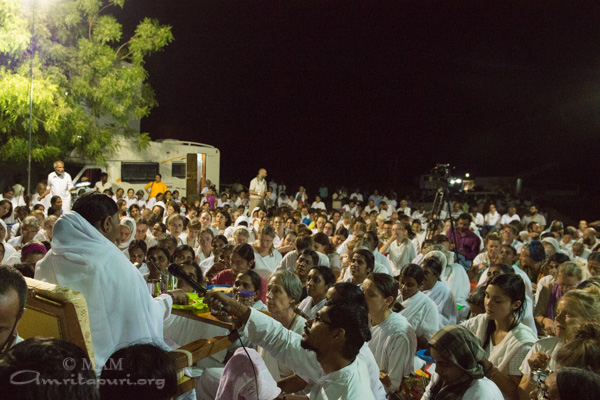 For the next few hours Amma sat with everyone in the group as well as the delighted factory owner and his family, singing bhajans and leading a discussion about the preservation of Mother Nature. Amma reminded everyone that in the days of our ancestors there was no need for environmental education because all of nature was seen as part of the creator. They had the vision to know that creator and creation were one and the same and not different from each other.
Amma and the tour group finally arrived at her beautiful Hyderabad ashram at 4am the following morning after a full day and night of travel.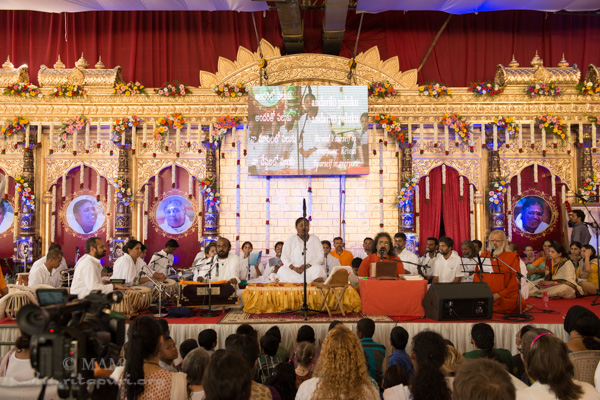 Later that day, Amma met one the city's highest ranking law enforcement officers. A lower ranking officer accompanying him also had a chance to meet Amma for the first time. The officer expressed to Amma he does not believe in God, but instead, believes in goodness. Upon hearing this, Amma told him that she really liked his openness, and to her God is nothing more than the embodiment of all noble qualities. She told the officer that if he or anyone else is able to live in accordance with goodness and values, that is enough.
Over the next two days of programs, Amma delighted all the locals by leading the Manasa Puja in Telegu and singing many Telegu bhajans along with satsang and meditation sessions.
Amma expanded the Vidyamritam program of educational scholarships with 1,000 new beneficiaries. These included 65 students from the AmritaCREATE centers from the villages of Kodur in Telengana and Gudipaticheruvu in Seemandhra.
Students from the Kodur center performed their native Kolattam dance with jingling cymbals on sticks.
Amrita Vidyalayam students also presented different cultural programs.
At the end of the final day of programs, finishing darshan at 3.30 am, as Amma was leaving the hall, Amma stopped by a man in the crowd who had come to offer her a packet of incense and camphor. Amma asked him if he had been drinking. Embarrassed, the man replied, 'Yes.' Amma then told the man that God doesn't need any material offerings – what is actually needed is the purity of thought, action, and deed.
Amma concluded the programs by singing 'Guruvadi Vani Sun Lo' which means 'Listen to the Words of the Masters.'
– Sundar