This past February, 63 Japanese students from IVUSA returned to the same small village in Chandrapuri, Uttarakhand where they had helped build homes last year as part of flood relief project.
This year, the relief efforts extended to building a new school. Since the flood, students have been studying in a small, dark prefabricated hut. The energetic Japanese students were more than happy for this wonderful opportunity to serve.
The students worked on two simultaneous projects:
– demolishing the old school buildings and clearing the area.
– carrying building materials such as sand, bricks and metal to the site to make concrete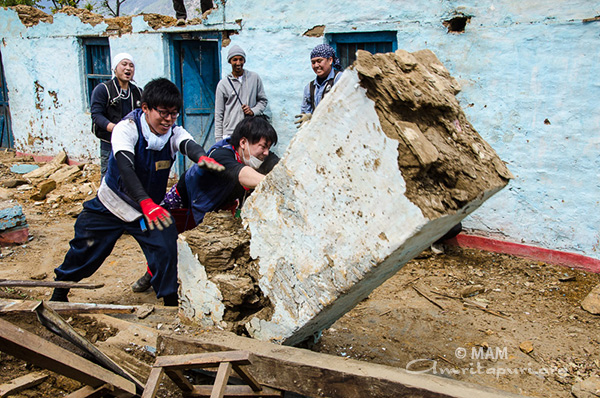 Throughout their two week stay, the students were fully energized, taking care of each other, working together as a group, and at the same time, enjoying every moment. It was beautiful to see their happiness. Everyone had the same single intention – to make people smile and happy through their service.
Each student had worked part-time jobs during the year to cover their airfare and travel expenses. Coming from a country that is full of comforts and the latest electronic products to the foot of the Himalaya Mountains where there is no hot water or electricity, the students took full advantage of this rare opportunity to get something more precious – joy and happiness – which cannot be bought.
During their stay, the students enjoyed celebrating Holi (the festival of colors), bathing in the icy cold water of the Mandakini River, eating vegetarian curry every day, and experiencing yoga in the cold on the roof with a view of the snow covered Himalayas. The students also got to see the Ganga Arathi at Har-ki-Pauri Ghat in Hardwar. The experience was beyond their imagination. Their time spent in India provided them with unforgettable memories for the rest of their lives.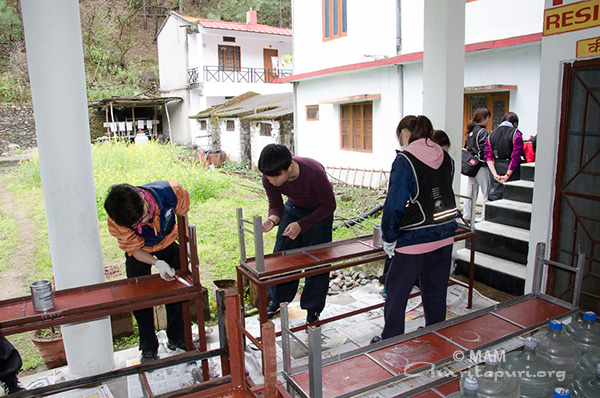 One local village lady said that the Japanese students were very inspiring and very hard working. She really appreciated their coming to her village. "We are so happy to see you all!"
A student responded, "What else can we do to serve you? What more can we do next time?"
She replied, "Just please come to show us your smile again, nothing else more we want. Buhud Dhaniyavad (Thank you very much)"
-Vivek