13 Feb 2015, Amritapuri
The gold medal winners of the National Games women Rugby competition from Odisha came to Amritapuri and met Amma. They had never met Amma before but had heard of Amma from the hotel they stayed in Kollam.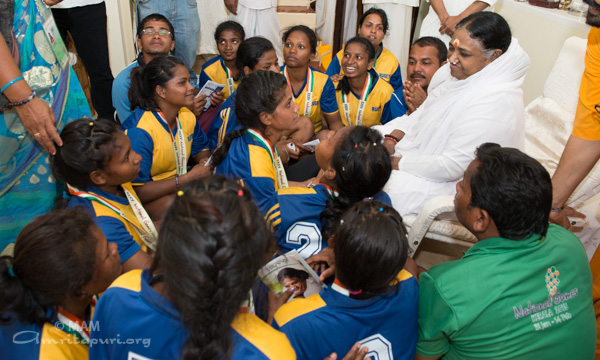 Right after the award ceremony they surprised the organisers and the local officials assembled there by declaring that they their one wish was to go and have Amma's darshan. The Collector then told the organisers that if that was their wish then they should try to fulfill it. That was how we saw a bedraggled group of school-girls fresh off the field, in their jerseys, bandages and tapes around their knees and elbows, gold medals dangling from their necks, with smiles on their face.
Amma had already finished bhajans and was in a meeting, but when She heard of their innocent desire Amma immediately called them. Their meeting with Amma was beautiful – their innocence and awe reflecting in their eyes and love shining from Amma. Amma said such sports persons who represent state and nation should be supported and promoted by the government too. They are the pride of the nation. Amma assured them help and instructed the Bhubhaneswar ashram local head to give them all possible assistance.
When these 12 players and the team coach emerged from their meeting with Amma, we asked them – What did you feel?
They said, "We felt a deep peace and love in Amma's presence. She is God."
– Kannadi