12 Oct 2014, Bandipore, Jammu Kashmir
Hundreds of Kashmir's flood-victims thronged the medical relief camp set up by Amrita Hospital in Bandipore district of Jammu and Kashmir. A team of 15 medical specialists and paramedics are providing critical medical care to flood victims in the worst-affected areas of the district including Ashtingoo Ghat, Kulhama, Laharwalpora and Sumbal-Sonawari. Over 2,300 people of these areas have been examined and dispensed with medicines.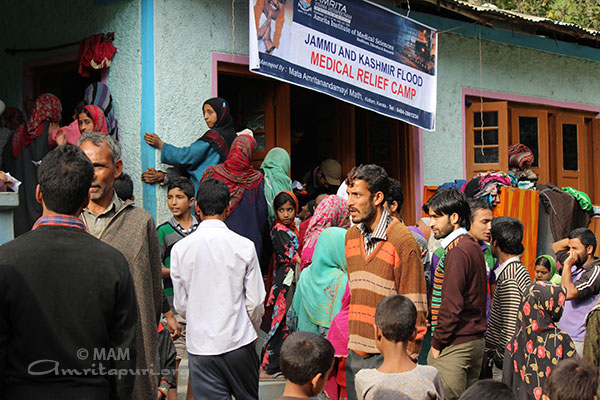 A mobile hospital and tele medicine unit is equipped with intensive care unit, ventilator, ECG, Colour Echo cardiogram, X-Ray Radiography, Light Microscopy with the team are providing advanced pathological support.
About 52 villages in Bandipore district was completely submerged in last months massive floods and hundreds of houses, several health facilities, schools and police stations were submerged in the floods, besides damaging standing crops in hundreds of hectares. According to the Divisional Commissioner Dr. Shah Faesal, 60,000 people were displaced in the floods, while dozens of families are still living in tents on roads and safer areas. Over 2,000 houses were completely damaged in the district.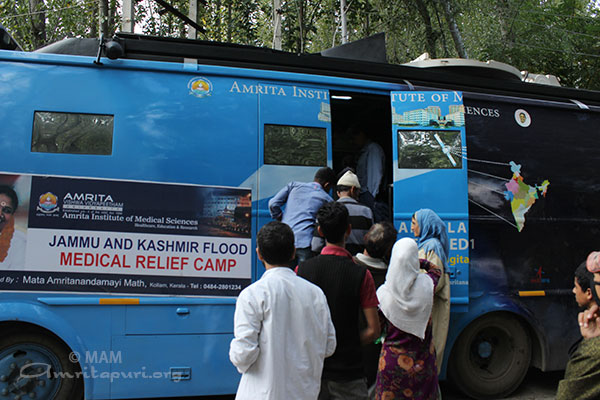 The medical camp, which began on 8th will continue till 13th October in Bandipore district, while during the second phase, it will shift to Magam in Badgam district of Kashmir.
-Dass