06 Oct 2014, New Delhi
Victims of the recent Kashmir floods will receive state-of-the-art medical aid from the Mata Amritanandamayi Math (MAM), as two mobile units equipped with health and relief facilities were flagged off from the capital by Union Home Minister Rajnath Singh.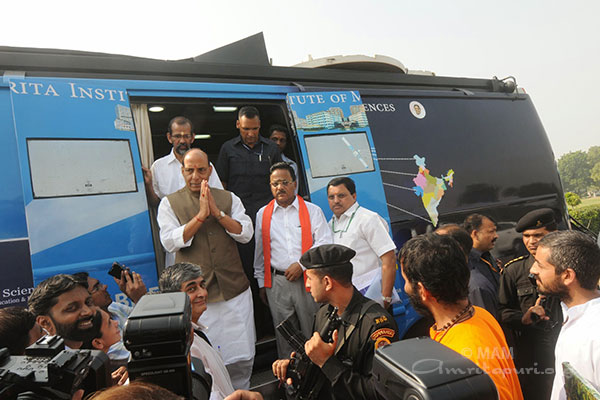 Hailing 'Amma'  as humanitarian icon for her charity activities, the minister said the government has made efforts to support the Math's Rs 25-crore mission in the Valley to ensure a coordinated operation.
"Amma is an ocean of compassion striving for the betterment of humanity," he said, before flagging off a mobile medical facility and a mobile tele-medicine unit from India Gate. Amidst the cheering of volunteers and supporters chanting aloud 'Mata Amritanandamayi Ki Jai' and 'Bharat Mata Ki Jai', the two vehicles moved out to Srinagar..
Earlier, the minister took a round of both the units and interacted with the contingent that includes 14 doctors and paramedical staff, who will reach Srinagar on Wednesday and work mostly in Bandipora district that was battered by the Jhelum floods this monsoon season.
MAM had last month distributed school kits for children in Udhampur district of the Valley, where the Math would also be constructing houses for people affected by the September floods triggered by torrential rains.