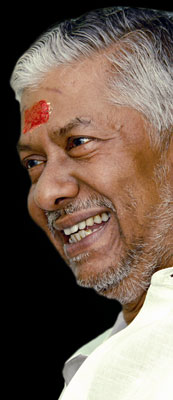 Amritapuri: This year's Amrita Keerthi Puraskar will be bestowed upon renowned litterateur S. Ramesan Nair. The award will be presented on September 27th, 2014, in Amritapuri, during Amma's 61st Birthday Celebrations.
The Amritakeerthi Puraskar is awarded annually since 2001 to eminent personalities for making outstanding contributions in the fields of spirituality, philosophy, culture and literature. The award comes with a cash prize of Rs. 1,23,456, a statuette of Saraswati Devi sculpted by the renowned sculptor, Artist Namboodiri and a citation.
Ramesan Nair has made lifelong contribution to Indian culture through his poems, plays, lyrics, translations and commentaries. The Amritakeerthi Puraskar Committee cited his translations of and commentaries upon the Tamil classics Chilappathikaram and Tirukkaral, his compilation of poetry and commentary on Neetisaarangal.
Sri. S. Ramesan Nair has received several literary awards in the past including the Poonthanam Award, Janmashtami Puraskaram, Revathy Pattathanam Puraskaram, Kerala Sahitya Academy Award, Sanjayan Puraskaram of Tapasya, Puthezhan Puraskaram, Edassery Puraskaram, Venmani Puraskaram and Ottur Puraskaram. He has also been recognized by the Government of Tamil Nadu for his many translations from Tamil to Malayalam.