The celebrations of the 61st birthday Sri Mata Amritanandamayi Devi (Amma) will be held at Amritapuri on Saturday, September 27th.
Over the years, Amma's birthday has become an occasion for thousands of people from all over India and abroad to make an annual pilgrimage to her Amritapuri Ashram in Kollam, Kerala, to have the privilege of celebrating the day of Amma's birth in her presence.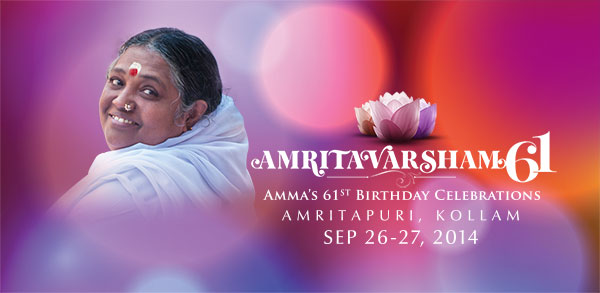 For more than four decades, Amma has continuously offered her entire life to showing humankind the path to peace, love and harmony. Amma's mission is one that takes into consideration the entire world community, while at the same time giving importance to the individual.
The birthday celebrations begin on Friday, September 26th with cultural programs being staged by students of various Amrita educational institutions.
On the main day, Saturday, 27th September, the program starts with Sri Guru Padapuja, the ceremonial washing of the guru's feet. This will be followed by Amma's birthday address.
Also part of the formal program will be important announcements, launches and inaugurations of various new programs and charitable projects by the Mata Amritanandamayi Math and its institutions.
MAM's Amrita Keerthi Puraskar for cultural contributions of excellence will be awarded to its 2014 beneficiary, and several new ashram publications highlighting Amma's spiritual teachings will be released.
Another annual hallmark of the birthday celebrations is Amma's conducting of a free marriage ceremony for impoverished couples and the distribution of free clothing to the poor.
With her vision of a progressive, self-reliant society, Amma also inspires research groups at Amrita Vishwa Vidyapeetham—the university founded and managed by the Mata Amritanandamayi Math—to engage in projects aimed at the upliftment of society. Several of these new projects, which are in various stages of completion, development and deployment, will be announced during the celebrations. The projects all focus on creating immediate societal impact and variously involve significant advances in renewable energy, healthcare technology and IT-enabled applications.
The celebrations will also include Amma's signature darshan—her personal motherly embrace for each person attending the event.
Thus, Amritavarsam 61, the celebration of Sri Mata Amritanandamayi Devi's birthday, promises to shine a light on projects and programs inspired by the world-renowned humanitarian and spiritual leader, as well as to be a global celebration of unity and commitment to building a better, happier tomorrow.