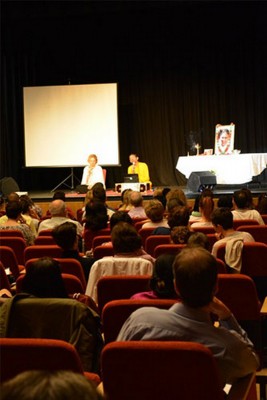 The very first stop of the European Tour of Br. Shubamrita this year was Hungary.
On Swami's arrival, sunshine and early summer replaced the heavy rainfall lasted long-long days.
Lots of people came to see him and listen to his spiritual talk. More then half of them was newcomers and heard about Amma only recently.
Br. Shubamrita's talked on how you can make your life more easy while only changing your thoughts and concentrating just on the next step – filled their hearts with relief. His beautiful words were so touching that after the program you could see many of the participants' faces shining. Lots of them said that they decided to follow those simple suggestions swami had proposed.
After the break devotional bhajans and meditation helped their minds to settle and surrender.
"I am thankful what I received here today: the theory of "changing your thoughts" is very familiar to me, but understanding it and living it was not completely synchronised. Swami's words swam directly to my heart and furthermore I have received practical advises on the "how to" side. I appreciate it so much!" said a participant after the program.